Kurt Sutter Talks About His Sons Of Anarchy Endgame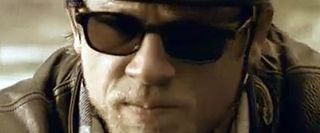 Sons of Anarchy regained some of its narrative steam last season, regaining some of the focus it lost during the overseas action of season three. That was a relief, because when the show is firing on all cylinders, it can be thoroughly engrossing television. The show is set to return for season 5 this September, and in the mean time show creator Kurt Sutter has dropped a few hints as to the show's long-term future and who will survive to see it.
Warning: Sutter's comments include spoilers about the eventual fate of several characters. It's only discussed in broad, general terms, but if you want to remain totally unspoiled don't scroll down.
Speaking at the Television Critics Association's summer press tour (and reported via TV Line), Sutter dropped a bomb that really wasn't terribly surprising: namely, that actor Charlie Hunnam has some pretty solid job security for however long Sons of Anarchy will last. "The show is the prince's journey, so there is no show without Jax," Sutter said, referencing the show's inspiration from Shakespeare's tale of Hamlet. "My sense of where the show will end up definitely includes Jax, and perhaps Gemma (Katey Sagal) and Clay (Ron Perlman)."
Sutter also says that he's got a clear vision of the show's endgame, whether that comes at the end of this season, or if it carries through a sixth and/or seventh season.
Sons of Anarchy's fifth season will premiere September 11th on FX. In addition to the regular cast, the season will feature guest appearances by Jimmy Smits, Harold Perrineau, and Ashley Tisdale.
Your Daily Blend of Entertainment News
Your Daily Blend of Entertainment News
Thank you for signing up to CinemaBlend. You will receive a verification email shortly.
There was a problem. Please refresh the page and try again.