Mad Men Review: Season 4 Premiere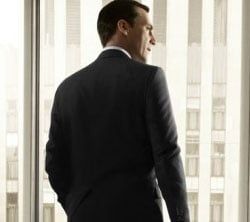 "Who is Don Draper?" This question is addressed from the beginning of the fourth season premiere and it's definitely an appropriate question given the character's situation. If someone who knew him three seasons ago were to answer this question they might say that he's a successful ad-man in New York City, with a beautiful wife, a set of adorable kids and a sturdy job. While they may have been somewhat right back then, that description no longer fits him.
Set in the '60's, Mad Men follows advertising executive Donald Draper (Jon Hamm) as he balances his job, his family and his private life, all of which are in some ways, tightly wound together and in other ways, distinctly separated. The drama follows Draper, as well as his family and co-workers, using the 1960's backdrop to tie in social and political issues that are relevant to the times.
When Season 4 picks up, the small staff of Sterling Cooper Draper Pryce are hard at work. It's evident that the partners and staff are still adjusting to the contrast of going from a successful, fully staffed and somewhat secure work environment to that of a wobbly upstart company. At Sterling Cooper, landing a new account meant a hearty pat on the back and maybe a promotion or a pay increase. At Sterling Cooper Draper Pryce, landing a new account could mean keeping the company out of the red and on the flip-side, losing an account could be the place's undoing.
The drastic change in the characters' work environment is pushing each of them into unfamiliar territory. While Peggy and Pete adjust to the added pressures of their jobs and get even more creative when handling accounts, Harry is working doubly hard to get the TV department up and running. That's not exactly new territory for him, but given how important each account is, the pressure is definitely on.
Don's personal life is just as unstable as his professional one, due in large part to the divorce and separation from Betty and the kids. We get an inside look at Don's living situation, as well as the status of Betty's relationship with Henry, now that she's divorced and trying to move on with her life. As for Don's love life, that's taken somewhat of a turn too as his shift in lifestyle seems to include a shift in his romantic escapades.
The season 4 premiere doesn't feel like just another season-opener, and I think that's a good thing as the series still feels fresh. The first three seasons have built a solid foundation for the characters and now that foundation is being put to the test. Given the number of changes that have taken place in the characters' lives from last season to this one, it feels like a new beginning for the series and a chance to re-explore all of the best characters with a new set of circumstances that are affecting everyone differently. While it's evident that this will be an uphill climb for Don, his partners and the staff of Sterling Cooper Draper Pryce, we're left with a reminder that while Don Draper might be down in some senses, he's not out and if there's one thing he has going for him, it's that he's still Don Draper. He re-invented himself once years ago when he took on a new name and a new life, and I think we're going to see some of that happen again to some extent as he attempts to rebuild his life and his career.
Mad Men's fourth season premieres Sunday, July 25 at 10 PM ET/9C on AMC.
Your Daily Blend of Entertainment News
Thank you for signing up to CinemaBlend. You will receive a verification email shortly.
There was a problem. Please refresh the page and try again.