NBC Breathes New Life Into Midnight, Mass. TV Adaptation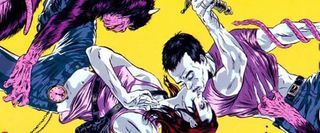 John Rozum's comic series, Midnight, Mass., might be coming to the masses, thanks to a development order from NBC. The project has already received a script commitment at the peacock network, and is moving forward with Snow White and the Huntsman co-writer Evan Daugherty on board to pen the adaption.
NBC won't move the project forward without a little bit of help. According to Deadline, Rozum will serve as a consultant on the project, to make certain the details are all in order. Midnight, Mass. will follow the occult expert husband and wife team of Adam and Julia Kadmon as they deal with monsters and other supernatural mysteries around North America. The team's home base is the town of Midnight, Massachusetts, which is where the title stems from. Daugherty and Gerber Pictures will executive produce, with Warner Bros. TV producing.
All the details seem to be in order with the script commitment, but that doesn't mean the series is guaranteed to make it to series. In fact, it may have more trouble than some of the other scripts coming up. Apparently, this isn't the first time someone has tried to put together Midnight, Mass. in a workable TV series format. A couple of years ago, Warner Bros. TV tried to adapt the comic series for television, but it never made it to the pilot stage. With a little luck and some writing magic, hopefully this time around, the adaptation will make it to air.
We'll keep you posted if Midnight Mass. makes it from the script commitment stage to the pilot round.
Your Daily Blend of Entertainment News