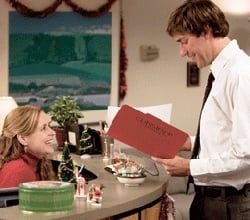 Spinoffs are a risky business. When you take a popular character from an ensemble cast and plop him or her into a starring vehicle, the end result is usually mediocre (Private Practice), if not downright awful (Joey). It's only once in a blue moon that you get one that is truly successful, like Frasier. It is for this reason that at first glance, the just-confirmed spinoff of The Office may seem like a bad idea. Luckily though, the upcoming NBC comedy has a couple of really positive factors working in its favor.
First off, if earlier reports are to be believed, no one from the current cast will be on the new show. That means we won't get a sitcom about Toby and his wacky hijinks with his ex-wife, or a behind-the-scenes look at Kevin's Scrantonicity nationwide tour. Secondly, the writers and producers behind The Office have already pulled off one dramatic feat: they took a beloved, award-winning British comedy and adapted it for American audiences in a way that made it as good, if not better, than the original. It's something that people, especially those who remembered NBC's failed attempt at adapting Coupling, didn't think could be done.
While the official announcement about the spinoff won't come until NBC's upfronts, the show is expected to be introduced via a special episode of The Office that will serve as a backdoor pilot. The new series is scheduled to be a mid-season replacement that will premiere after the Super Bowl on February 1st. It will then air Thursday nights after The Office.
Your Daily Blend of Entertainment News
Your Daily Blend of Entertainment News
Thank you for signing up to CinemaBlend. You will receive a verification email shortly.
There was a problem. Please refresh the page and try again.