Parks And Recreation Watch: Season 5, Episode 8 - Ron And Diane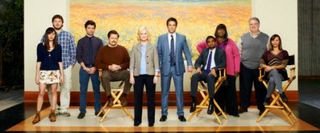 Parks & Rec is back with another holiday episode and we get the return of a Tammy to do battle with Ron's new lady, Diane.
Ron has entered his latest chair into the local woodworkers' competition and he is up for a award. Ron, Diane and Leslie all attend the award ceremony, Leslie coming for emotional support, but she ends up running diversion when Tammy II shows up to try and woo Ron back into her pants. Leslie causes other unforeseen problems with Ron and Diane though when Leslie and Ron's friendship causes Diane to doubt Ron's commitment. This plot line was the A story for the week and it worked wonderfully to get into Ron's head like never before. Besides Leslie revealing a couple more of Swanson's secrets, Ron actually opens up on his own and even shares his biggest secret, Duke Silver, with Diane in the end. These steps are going a long way to not only expand Ron's back story but his relationship with the women in his life. We also get to see Nick Offerman play a giddy Ron, which is always a highlight on the show.
Leslie running interference on Tammy gets over the top and silly in quite a hurry, but Mullally and Poehler sell the chase and carnage with ease. Mullally might be running out of things to do as Tammy and it is nice to see that they are seemingly ready to move on as this felt like a bit of a retirement for the most infamous Tammy.
The rest of the gang ends up in and around Jerry's house as worlds collide at the Chigger Christmas party. April, Andy, Tom and Donna have apparently been putting a dollar in a box for every Jerry fail and at the end of the year they use the money to go out to a nice dinner. Anne protests to the whole act and when Donna gets the heart to pick up and invite Jerry along for the nice dinner the group finds he is having a Christmas party and everyone at the office is invited but them. This other side of the episode gives a couple of long linger plot lines some possible closure and opens up a mind bending can of worms where all these gorgeous Chargers are coming from. Ben and Chris are spending the night together like old times and all of Chris' psych work seems to have paid off. Put into a scenario that will remind him of everything that drove him into depression, seeing that it was Jerry's daughter Millie's breakup that sent him downward, but Chris comes out the other side ok; even with an actual appearance by his ex. Hopefully this will be an end to a meandering attempt to give Chris something to do as I feel like the character and Rob Lowe have been handcuffed for far to long with this bout of depression.
The uninvited group is meanwhile stuck outside the party and they are trying to weasel past Anne to get in. While Donna is able to make her way to the inside, Andy, April and Tom are left out in the cold. They do a great job of making the group sympathetic to Jerry as the trio tears through some blocked Jerry emails that are full of good tidings and a their invites to the party. There isn't much to this plot, but it was nice to see everyone appreciate Jerry for a change instead of him being a punchline (though I hope that doesn't stop) The gesture with the Jerry Dinner fund as a donation to help pay for his "fart attack" bills was a great way to cap off this story as well, and they even slipped in another little "poor Jerry" moment to balance everything out.
Parks & Rec's holiday episodes are usually pretty good and this one was no different. A lot of character development, plenty great laughs and the return of Tammy II is never a bad thing, this episode had plenty of heart to go along with the funny. Ron is slowly becoming more human and it was nice to have him back after being forced to the sidelines the last few weeks, but I think it is Jerry's story that will have you smiling the most this week.
Random Ramblings:
-"Everything's happening so fast."
-80 sushi!
-"What the hell is Jerry Dinner?"
-Got to love giddy Ron.
-Jerry is having a party!
-Tammy!
-Megan Mull ally, great as usual.
-"Man-Perkins."
-Wood puns.
-Gail is a looker.
-Jerry pumps out some hotties.
-Poor Jerry.
-"Ron Swanson, for chair."
-Factory wages at 9.
-Best in memoriam ever?
-"Keep your voice down woman!"
-Awe, Jerry.
-Duke Silver!
-"I'm going to kill you."
Your Daily Blend of Entertainment News
Thank you for signing up to CinemaBlend. You will receive a verification email shortly.
There was a problem. Please refresh the page and try again.