Rosanna Arquette Set To Appear On Medium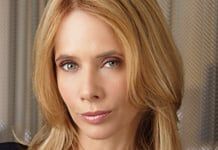 Nepotism is alive in well in Hollywood, as we are all well aware. Think the Baldwin brothers – how does Stephen keep getting work? If you have a family member in the business, and they aren't a total train wreck, you can almost guarantee you can get some work. Take Rosanna Arquette for instance. She works here and there, but hasn't had a lead role since Backdraft – oh wait, that was Jennifer Jason Leigh. I always get them mixed up… Has Rosanna ever had a lead role? Well, she isn't the lead this time either, but she does get a nice juicy role as a sex fiend who preys on younger men in her little sis' show Medium.
Patricia is clearly the more talented of the two, but at least she is happy to throw her brothers and sisters a bone every now and then. Not only is Rosanna featured on the episode that will air April 7, but brother David Arquette has directed two episodes, and Richmond Arquette (one of the other Arquette brothers) was on as a guest star two years ago.
The ever sweet Patricia (ex-wife of Nicholas Cage) claims that her castmates prefer her siblings once they meet them. The story is on Yahoo News, and Patricia is quoted as saying, "Of course, every time one of my siblings comes on set, the crew realizes that I have yet another sibling nicer than me," she said.
I remember Rosanna now – she was in Desperately Seeking Susan right?
Your Daily Blend of Entertainment News
Thank you for signing up to CinemaBlend. You will receive a verification email shortly.
There was a problem. Please refresh the page and try again.