Sam Waterston Cast In Sorkin HBO Project For First Post Law & Order Role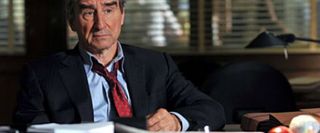 Just the other day, while announcing Olivia Munn being cast in the Sorkin-HBO pilot tentatively titled More as This Story Develops, we talked about how she never seems to be out of a job for long. And now, according to TVLine, another perennially employed actor, Sam Waterston, is jumping aboard the highly touted new show.
To be fair, he's never out of work because he was on one of the longest running series of all time (Law & Order: Almost Every Version) and therefore will forever bee engrained in my mind as Assistant District Attorney Jack McCoy. In that iconic role he racked up a few SAG and Golden Globes (and let's not forget his amazing turn as Sydney Shanberg in The Killing Fields which earned him an Oscar nom). Not bad.
He joins the previously cast Jeff Daniels, Alison Pill (amazing) and Olivia Munn (and apparently, almost Emily Mortimer?) as Daniels' boss on the fictional cable news show within the show. More as This Story Develops is being produced by Sorkin, Scott Rudin (the two collaborated for last year's The Social Network) and Alan Poul (Six Feet Under).