Seth Rogen Ran Into The Guy Who Canceled Freaks And Geeks, Then This Happened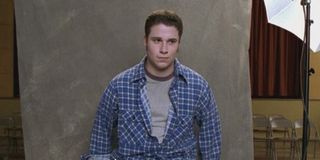 Many fans are still rankled that NBC canceled the coming of age drama Freaks and Geeks after one short season on the network. The show finished its run nearly fifteen years ago, yet it is still regularly watched as well as referenced in pop culture. This week, Seth Rogen got the ultimate revenge on the executive who ultimately decided to axe the series. It's a story that should amuse anyone who ever got through all of the 18 episodes that aired.
Rogen took to Twitter this weekend to discuss what must have been an extremely gratifying moment. He found himself in the same room with the person who canceled Freaks and Geeks and decided he needed to bring it up. Here's the story from his own mouth.
Later, Rogen clarified what happened. He was at Saturday Night Live hanging out with Paul Rudd when he saw the guy. He confronted him and asked what happened. The still-unnamed executive said Judd Apatow refused to take the network's notes about letting the kids get some wins. Rogen told him that was stupid because the whole point was about how no one ever completely wins in high school. Long story short, he's still mad.
It's easy to see why the actor might still harbor annoyance toward the network head who canceled Freaks and Geeks (he certainly isn't the only one). Although the show did get a sort-of sequel with Undeclared, the show featured a dream cast, with Rogen, Jason Segel, Martin Starr, Linda Cardellini, Busy Philipps and John Francis Daley all appearing on the drama each week. Beyond this, by all accounts the cast and crew got along together incredibly well and would have loved to have produced more seasons of Freaks and Geeks. (The "geeks" from the series even plan to have an onscreen reunion, soon.)
Despite the Freaks and Geeks setback, Rogen has had a pretty prolific career. From Knocked Up to This is the End and Neighbors, he's been an onscreen presence for over a decade, and has collaborated with Freaks and Geeks producer Judd Apatow numerous times. His big break may never have happened were it not for Freaks and Geeks, and it's nice to know that the actor is still championing the show when he gets the chance. Now, we can all daydream about the look on that executive's face when Rogen got in an underhanded comment.
Maybe someday we'll get a full-blown Freaks And Geeks reunion. Given how much fame the cast has achieved over the years, the network would probably finance it. Unfortunately, with great career success comes great scheduling problems. So, getting Seth Rogen, James Franco, Jason Segel, John Francis Daley and everyone else back in the same room might be impossible, and that's to say nothing of random supporting players like Lizzy Caplan, David Krumholtz, Rashida Jones, Jason Schwartzman, Ben Foster and the guy who played Goldberg in The Mighty Ducks.
Your Daily Blend of Entertainment News
Reality TV fan with a pinch of Disney fairy dust thrown in. Theme park junkie. If you've created a rom-com I've probably watched it.