Starz' Magic City Trailer Shows Miami Beach in the 1950s, And Gangsters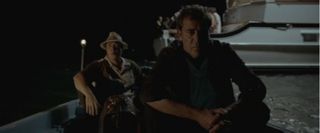 Here's your next period drama. It's called Magic City and it's set in Miami in 1959. We can all thank Matthew Weiner and Mad Men for the current surge of series set in the past. Yet, for every Boardwalk Empire there's also a Playboy Club, meaning not all these shows are going to be successful just because they're period pieces. However, what Magic City has going for it, which a lot don't, is Starz - a network where anything goes. So bring all the sex, drugs and violence you want and it looks like there will be plenty on Miami Beach.
The series was created by writer-director Mitch Glazer who would have benefitted from the show coming out a year or two ago, namely before Passion Play. Glazer's first feature directing effort wasn't exactly memorable, even with heavyweight actors like Bill Murray and Mickey Rourke doing their best. However, most of Glazer's work has been fairly decent, especially his Dickens' adaptations, one straight (Great Expectations) and one spoof (Scrooged). Another reason there may be hope for the series is, well, the trailer looks pretty damn rad.
I already mentioned Boardwalk Empire but there's a real Martin Scorsese Casino vibe to this first look at the Starz show. The narrative connections are obvious, with Magic City revolving around the luxurious Miramar Playa Hotel and the seedy underworld of gangsters, prostitution and all that other fun stuff. However, it's more than just the story, this trailer makes it look like the show is also shot, scored and edited like a Scorsese flick (in my opinion, even more so than Boardwalk). Especially the music. Take a look and judge for yourself.
Magic City has a fantastic cast that includes Jeffrey Dean Morgan, Olga Kurylenko and Danny Huston. It was written and directed by Mitch Glazer. Look for it 2012 on Starz.
The official synopsis,
Your Daily Blend of Entertainment News
Thank you for signing up to CinemaBlend. You will receive a verification email shortly.
There was a problem. Please refresh the page and try again.