Super Bowl Commercials Part 4: A Naked M&M, Sonic Stunts And David Beckham In His Underwear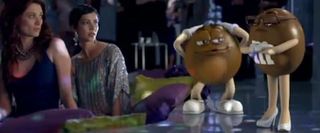 The game is on and in between segments of Super Bowl XLVI, those of us who are in it for the ads get to see the small screen debut of some great new commercials. We'll be sharing some of the best ones here for you as they're made available online. Check the latest ads out ahead!
Below are some of the new ads, and you can click here to view the previously shared ads, including Ferris Bueller's brief comeback for Honda, an appearance by Vader, and a cute kid in desperate need of a bathroom
Ms. Brown arrives to join the M&M family and she's very serious. She's also not naked, so stop giggling...
Chevy's Sonic does some pretty impressive stunts (that are apparently 100% real and shouldn't be attempted at home...)
David Beckham in his underwear (sorry "bodywear"...)
His confidence is kind of weird...
A dog pays for silence with Doritos...
Betty White gets the attention of The Voice mentors...
Will Arnett shows us our brain on Hulu Plus...
More to come and more ads here!.