Supernatural's Ghostfacers Spinning Onto The Web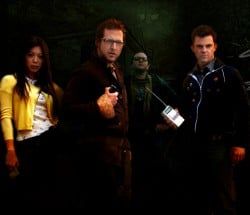 Fans of Supernatural have gotten a kick out of "The Ghostfacers" each time they've appeared. This hapless crew of wannabe ghostbusters, a clear parody of Ghost Hunters, found themselves in over their heads on more than one occasion, only to be bailed out by the Winchesters. Now they're getting their own web series.
The Ghostfacers already have their own website, but now it looks like they'll be striking out on their own adventures, per SciFi Pulse. Supernatural creator Eric Kripke and Wonderland TV (which producers the series) are joining up to create ten three-minute installments of Ghostfacers for streaming on TheWB.com and The CW's official site.
Supernatural remains one of the top draws for The CW, now in its fifth season, and it's accomplished this with a brilliant blend of horror and humor. The series has taken a very tongue-in-cheek look at the horror genre, as well as demon hunting and ghost hunting. Within the show, Sam and Dean are already characters in a popular book series inadvertantly based on their real adventures, and they've crashed a convention held in their honor.
The Ghostfacers was one of those fun elements introduced early on, capitalizing on and spoofing the popularity of Ghost Hunters and similar paranormal series. The difference is -- depending on what you believe -- the things that go bump in the night are very real and very dangerous within the Supernatural world.
There's no word on when the episodes might premiere, or if any other recognizable characters from the series will make any appearances, but die-hard fans of Supernatural are probably not going to want to miss out on all the fun.
Your Daily Blend of Entertainment News
Your Daily Blend of Entertainment News
Thank you for signing up to CinemaBlend. You will receive a verification email shortly.
There was a problem. Please refresh the page and try again.