TV Recap: My Name is Earl - Midnight Bun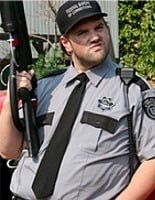 Two feuding brothers, one escaped convict, and a pregnant crazy-woman are on tap in this week's episode. It ain't pretty.
Last week, Frank went missing after Randy took the "Scared Straight" convicts out for ice cream after the school presentation. So the Warden gave Earl and Randy the secret mission of finding Frank and bringing him in.
They're still fighting about who's in control, but when Earl gets ice cream from an ice cream truck, he comes back to the car to find Randy having an emotional break-down. They both agree that he's not so great at being in charge of people, but when it comes to toys, well…he's the best.
Joy's at the hospital ready to pull that baby out herself, if need be. And really, all she needs is "gravity, a bucket, and a wet-nap." Instead, she opts for having the doctor induce her. But when the doc tries to give her the shot, Liberty – a former wrestler – body slams him and Darnell gets the shot instead and starts worrying about having poop-tuplets.
Things come to a head when everyone shows up at the trailer – Frank (who's looking for the money Paco stashed), Earl and Randy, Joy and Darnell, and Liberty and Ray Ray (is he, like, 12 years old?).
With Frank holding a gun to Joy/Liberty/Ray Ray's unborn kid, Joy's water breaks. Darnell springs into action, shouting for a towel, the coupon scissors, and a chip clip. "I've done this before! With kittens! When I was nine!"
With REO Speedwagon's "Keep Pushin'" playing in the background, Joy pushes out a beautiful baby girl. Earl and Randy make up. And Frank gets nabbed by the K-9 search dog. I love a happy ending.
Your Daily Blend of Entertainment News
Thank you for signing up to CinemaBlend. You will receive a verification email shortly.
There was a problem. Please refresh the page and try again.