Tate Donovan Takes It To The White House In 24: Live Another Day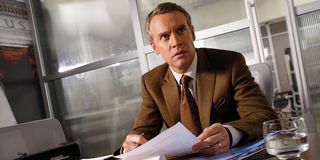 FOX is stacking the deck of its latest event series, the reboot of its hit television series, 24, as evidenced by the announcement that Tate Donovan (Damages) will join the cast of the Jack Bauer epic. Officially titled 24: Live Another Day because the Kiefer Sutherland-fronted project is going for a James Bond-ian theme, Donovan will inhabit the role of Mark Boudreau, the White House Chief of Staff. Looks like Bauer's going to have some serious folks to contend with in his latest action-packed jaunt.
24: Live Another Day has already sent fans of the momentously successful former series into an absolute tizzy, hungrily waiting for — and in turn, gobbling up — any and every single detail they can get their hands on. As it stands thus far, the plot for the event series revolves around a now-exiled Jack Bauer, who — for reasons currently unknown — is being tracked by several high-powered people, including CIA operations head Steve Harris (played by Benjamin Bratt), agent Kate Morgan (Yvonne Strahovski of Chuck and Dexter fame), computer tech Jordan Reed (played by Giles Matthey, because you always need one of those), and field operative Erik Ritter (Gbenga Akinnagbe of The Wire). The series will also star Mary Lynn Rajskub, Judy Davis, and Michael Wincott.
Donovan is hardly in the running for slouchiest actor on the job — far from it. If you haven't seen him on NBC's Hostages, then you most certainly have spotted him somewhere else, be it on Damages, Deception, and The O.C., as well as several films. As for his character in Love Another Day, it is stated that Boudreau is both astute and strong-willed as far as political advisors go, who also just so happens to oh-so-conveniently be married to President James Heller (William Devane)'s daughter, Audrey Raines (Kim Raver). Fans of the series might know her in another way: mainly as Bauer's former lover. Oooh, awkward romantical tension: the best!
Most fans of the series had been anticipating a 24 film for quite some time, and even with the advent of this glorified miniseries, the film idea is still not off the table — at least according to Sutherland himself. "The film is an ongoing situation. There's always an opportunity to do that. Howard [Gordon] came up with an idea for a 12-episode run at this, and it was the opportunity that presented itself to us first." He added: "It was a fantastic idea, and it's something that we're very excited about doing, and it's something that we're really primarily focused on. So, if this ends up rebooting the show or causing a film to be made, so be it."
As for this series, 24: Live Another Day — which has already begun filming in London — is set to debut with a two-hour television premiere on Monday, May 5 at 8:00PM on FOX. The series will then move into its regular time slot the following week: Monday, May 12 at 9PM.
Your Daily Blend of Entertainment News
Your Daily Blend of Entertainment News
Thank you for signing up to CinemaBlend. You will receive a verification email shortly.
There was a problem. Please refresh the page and try again.