Top Chef Power Rankings: Breaking Down A Pig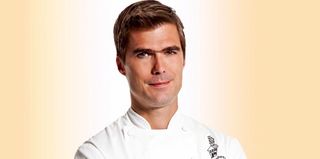 In case if you needed a reminder as to how fundamentally weird New Orleans is, we got it this week thanks to Dr. John. The noted eccentric and beloved musician is most famous for this badass song, but he's apparently also a well-known lover of hot sauce. As such, the quickfire required each of the contestants to put their own spin on the classic condiment.
Humorously, many of the sauces Dr. John wound up disliking were the ones that were too aggressive with spice. Conversely, the ones he couldn't get enough of were a little lighter and fruitier, which worked out well for Carlos, Justin and Brian, the last of which took home the victory. He's always dreamed of bottling his own sauces, though for the time being, he was certainly pleased with immunity.
For this week's elimination challenge, the chefs were asked to split up an entire hog amongst themselves, using every part to contribute eleven individual dishes for an outdoor event. Surprisingly, divvying up the meat didn't turn out to be an issue in the slightest, nor did the actual cooking end of the equation. After sampling all of the dishes, Tom told the judges the food was collectively the best he's had during his eleven seasons of Top Chef, which is about as high of non Michelin star praise anyone in the food industry could receive.
Narrowly edging out all of the competitors were Carlos, Shirley and Nina who made tacos, jiaozi dumplings and pig's head ragu, respectively. After some heated deliberations, Carlos took home the victory and asked Justin, Stephanie and Louis back into judges' room. Given the overall quality of the dishes, Tom and company were actually very nice and repeatedly said someone would go home for a good dish, not a bad one. In the end, that disappointing honor went to Louis whose pork was wonderful but added too many sides that didn't quite make sense.
The Top Chef Power Rankings are an ordered compilation of weekly lists put together by TV Blend writers Jessica Rawden and Mack Rawden. Each week after viewing the episode, they each rank the competitors in order. Nineteen points are given for a first place vote, and this week, nine were given for a last place vote. Eight competitors have already been eliminated; therefore, those people automatically occupy the bottom slots. Here is how this week's voting panned out, complete with analysis on how the contestants might fare moving forward.
The Favorites
#1) Nina Compton (37): Nina was in the bottom of the quickfire group thanks to her decision to go a little too hot with her hot sauce, but as per her usual M.O., she knocked it out of the park during the elimination challenge. Thanks to a last minute pepper addition, the judges and patrons were loving her pig's head ragu, and she came dangerously close to victory again.
#2) Carlos Gaytan (36): This week Carlos and Justin battled over taco dishes, and Carlos quashed his New Orleans competition like a fly chilling on the wall. His tacos were described as fantastic, and it led him to this week's challenge win. I was a little worried about the Michelin star-earning chef for the first couple weeks of the competition, but now he seems to be in a competitive groove and is fighting to take the Top Chef title home.
#3) Shirley Chung (35): You know what I like about this season? The higher end people are bringing it damn near every week. Shirley has proven herself over and over again in this competition, and once again, she was almost flawless this week, this time thanks to a traditional family recipe she used to make with her mother in China.
#4) Justin Devillier (31): We learned a new fact about Justin this week. When he really cares about something, he can be a poor loser. In the battle of the pork tacos, Justin lost to Carlos and his mouth got the better of him. Still, one bad week doesn't mean he's going home, soon. It just means he needs to rework his attitude and his mindset before he's asked to cook in the next competition. He's made some great dishes so far, and it would be nice if he could stick around to keep making them.
#4) Carrie Mashaney (31): Carrie was complimented on her dish numerous times by the judges this week, but she didn't land in the top 3. In a worse year for food, I get the feeling this hometown girl would have been a big contender to win the challenge every week. This season, the competition has been deep, and she's still done quite well. Maybe even well enough to cook her way into the finale.
The Contenders
#6) Brian Huskey (28): Brian tore it up in the quickfire for a second consecutive episode, once again taking home the crown and the prized immunity that comes with it. The momentum kind of sort of continued into the elimination challenge with a dish the judges liked and said very positive things about, but since he wasn't singled out as one of the three best, it's hard to call it a victory.
#7) Stephanie Cmar (26): Stephanie is suffering from a crisis of confidence. Thanks to a few really good works during the middle of the season, it seemed like she was going to truly step up and enter the competition's elite. In fact, we argued that very thing last week, but her pork fell a little flat this time around and she pretty much threw herself a pity party during the entire second half of the episode. In the end, the judges spared her, but she's going to need to do better to stick around.
The Dark Horses
#8) Sara Johannes (23): This week, the episode began with Sara lamenting about her status on the series. She's continually landed in the middle of the pack, which means she doesn't really get critiques from the judges, and she says she's tired of it. So, this time around, she picked up her knives and… landed in the middle of the pack. Sara keeps talking a good game, but unless she pulls some wins out of a hat, her time on the series could be ending sooner rather than later.
#8) Nicholas Elmi (23): Nicholas was a champ breaking down the pig prior to the elimination challenge. He clearly knows what he's doing when it comes to butchery, but unfortunately, his dish wasn't enough to separate him from the pack after the judges tasted everything. At this point in the competition, everyone should be proud of themselves for what they've accomplished, but unless he improves quickly, he's going to wind up remembering his entire time on Top Chef as a moral victory.
#10) Travis Masar (20): If there is anyone in this competition who has continually made suspect choices, it's Travis. This week, he opted to create a dish with Ramen noodles and also opted to not make his own pasta because there "wasn't enough time." If there has been any one singular idea that has consistently sent chefs home on Top Chef, it's not creating pasta from scratch. Luckily for Travis, the dish was pretty tasty, but one of these weeks a big misstep like this is going to send him packing.
Swipe to scroll horizontally
Mack:
Nina Compton (19)
Shirley Chung (18)
Carlos Gaytan (17)
Justin Devillier (16)
Carrie Mashaney (15)
Brian Huskey (14)
Stephanie Cmar (13)
Sara Johannes (12)
Nicholas Elmi (11)
Travis Masar (10)
Jessica:
Carlos Gaytan (19)
Nina Compton (18)
Shirley Chung (17)
Carrie Mashaney (16)
Justin Devillier (15)
Brian Huskey (14)
Stephanie Cmar (13)
Nicholas Elmi (12)
Sara Johannes (11)
Travis Masar(10)
Photo Credit @ Bravo
Enthusiastic about Clue, case-of-the-week mysteries, the NBA and cookies at Disney World. Less enthusiastic about the pricing structure of cable, loud noises and Tuesdays.
Your Daily Blend of Entertainment News
Thank you for signing up to CinemaBlend. You will receive a verification email shortly.
There was a problem. Please refresh the page and try again.