Torchwood: Miracle Day To Include Guest Appearances By Wayne Knight, Ernie Hudson, And Others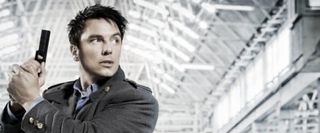 Good news for all those into Torchwood, because the spinoff--for the first time brought to your television screen by STARZ in a co-production with BBC Worldwide)--is coming back soon. Yes, Torchwood: Miracle Day will premiere on STARZ July 8th at 10 p.m. ET... Wait, I haven't even told you the big news!
Several high-profile "new headliners" have joined series regulars John Barrowman, Eve Myles and Kai Owen. Mekhi '8 Mile' Phifer, Bill 'Independence Day' Pullman and Alexa 'newcomer' Havins are joining the cast as regulars.
The latest bit of exciting news for Torchwood: Miracle Day fans (wait, would they exist yet? Miracle Day hasn't premiered yet so... nevermind) is that several guest stars will be appearing over the 10 episode arc. Recurring guests are Arelene Tur and Lauren Ambrose, with many one-offs including Newman (Wayne Knight), Ponyboy (C. Thomas Howell), Winston Zeddmore (Ernie Hudson), Nana Visitor, John DeLancie, Mare Winningham and Frances Fisher. Should be a good year for Torchwood.
Below is the official synopsis from the press release. Torchwood: Miracle Day will premiere on STARZ July 8th at 10 p.m. ET
Your Daily Blend of Entertainment News