Torchwood Miracle Day Preview: Eleven Minute Video Peeks Behind The Scenes Of Miracle Day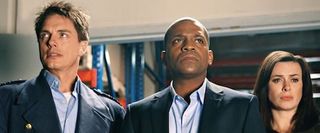 Torchwood: Miracle Day's big premiere on Starz is less than two weeks away. Today, Starz posted an eleven minute video, which takes a look behind the scenes of the series' fourth season (and first for the network), and offers us a lot of information and plenty of footage from the show.
Torchwood is a British series, spun off from the popular sci-fi show Doctor Who. The show follows (what's left of) a team of people who investigate strange incidents, often related to something alien or supernatural. Starz released a much shorter behind the scenes look at Miracle Day, but this one is much more extensive.
The video below does a nice job of introducing us to the story and characters, explaining some of the premise to Miracle Day and showing quite a bit of the new season. I'm not sure I love the voice-over narration, but it works as far as explaining what's going on. Series stars John Barrowman and Eve Myles, along with newcomers Mekhi Phifer and Bill Pullman are also featured in the video as they talk about the roles they play.
Torchwood: Miracle Day premieres July 8th, 10 pm e/p on Starz..
Your Daily Blend of Entertainment News
Thank you for signing up to CinemaBlend. You will receive a verification email shortly.
There was a problem. Please refresh the page and try again.