Torchwood Star Defends Doctor Who's John Barrowman After Flashing Rumors Resurface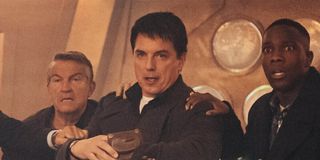 John Barrowman's time as Captain John Harkness in the Doctor Who universe (or multiple universes?) mostly took place over 10 years ago but, recently, his time on the set has been a major topic of discussion. The popularity of his character in the main Doctor Who series sparked his own spin-off, Torchwood, though a number of stories have since surfaced that have accused Barrowman of exposing himself on both sets in the name of comedy. A few alums from both shows have spoken out about the rumors in the past but, now that they've resurfaced, a fellow Torchwood star has chimed in, speaking in defense of Barrowman.
John Barrowman's Torchwood co-star, Gareth David-Lloyd, was the one to defend him in the midst of the reignited allegations. In an interview with Metro, David-Lloyd explained that he fully understands in hindsight that Barrowman's on-set actions were inappropriate. However, based on his comments, David-Lloyd doesn't believe his co-star meant to make anyone feel uncomfortable but only sought to "entertain" the cast and crew of Torchwood. Here it is in his own words:
Gareth David-Lloyd seems to partially attribute John Barrowman's actions to the fact that the cast and crew of Torchwood were so close. He adds that because he was a less experienced actor at the time, he was somewhat unaware of how his co-star's actions would make others feel. In the same interview, David-Lloyd went on to double down on his belief that Barrowman meant no harm with his antics on set:
John Barrowman initially apologized for his behavior back in 2008, saying he never meant to affect anyone negatively and that he would be more diligent through his actions moving forward. He has also apologized again recently since the rumors have resurfaced. In this most recent statement, Barrowman said that he understands the effects of his "exuberant behaviour" and that he has changed his behavior and understanding since the initial allegations.
The renewed interest in these reported incidents involving John Barrowman comes on the heels of another situation involving Doctor Who star, Noel Clarke. The actor, who played Mickey back in the beginning of the 2005 revival and was recently rumored to return, has been accused of sexual assault and harassment by over 20 women. In a recently resurfaced 2014 video recorded at a convention, Clarke actually recalled an incident related to Barrowman's on-set conduct, and said clip has sparked new interest in the years-old allegations.
As of right now, it doesn't appear that there have been any recent instances in which John Barrowman has exposed himself on the set of a production. Still, the BBC appears to be heavily investigating any claims of misconduct and is reportedly taking those claims very seriously. Now that Barrowman has the support of Gareth David-Lloyd, it remains to be seen whether any of his other Doctor Who or Torchwood co-stars will also speak in defense of him.
Constantly thinking about books, coffee, and the existential dread I feel from Bo Burnham's Inside. While writing I'm also raising a chaotic toddler, who may or may not have picked up personality traits from watching one too many episodes of Trailer Park Boys.
Your Daily Blend of Entertainment News
Thank you for signing up to CinemaBlend. You will receive a verification email shortly.
There was a problem. Please refresh the page and try again.