Watch A Professional Surfer Survive A Shark Attack During Live Competition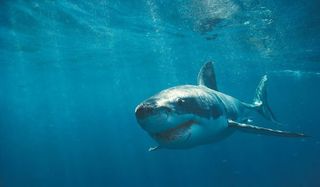 Professional surfer Mick Fanning already has three world surfing titles under his belt, but now his legend is about to hold even more weight as the athlete survived a shark attack on live television. The shark came out of nowhere, and while Fanning reacted with shock, he luckily was able to fight the massive predator off, and it was all caught on camera. Check it out.
The famed Australian surfer was a finalist in the J-Bay Open in South Africa when the shark struck him. Fanning was waiting for his first wave of the final, when he suddenly noticed what was occurring, seeing a fin surface behind him. You can see in the video some sort of altercation going on. Fanning later says he had punched the shark, and was extremely lucky to escape. To make things worse, after the altercation, the wave hit, and on the extended live stream, Fanning was unseen behind the crest of the wave, looking like he had disappeared beneath it. Luckily, nearby rescue boats quickly rushed to the scene and got Fanning as well as his fellow finalist Julian Wilson out of the water as fast as possible.
Fanning recalled the terrifying incident to Fox Sports, telling the publication:
After the scare, the competition was postponed, but with tension high, The World Surf League decided to cancel the rest of the event, and both Wilson and Fanning agreed to take second place in the competition. The prize money was split between the two. The organization made a statement commending Fanning's composure and the quick response of the water safety personnel, but concluded that safety for the athletes was top priority, ultimately deciding to cancel the remainder of the competition.
Shark attacks have been on the rise lately, and an incident like this proves that even athletes who make their living in the water, are still at risk. The surfer was undoubtedly lucky to have come out of the incident unscathed. It's definitely not something you see every day, especially on live television.
For Fanning, even though he was a bit shook up after the whole event, he still managed to sum up the event in the perfect Australian surfer lingo, telling the World Surf League website:
Your Daily Blend of Entertainment News
Your Daily Blend of Entertainment News
Thank you for signing up to CinemaBlend. You will receive a verification email shortly.
There was a problem. Please refresh the page and try again.