We're All In This Together: High School Musical 2 Shatters Records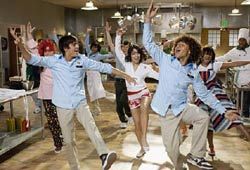 Mickey Mouse's smile just got even bigger. Variety is reporting that 17.2 million viewers tuned in to see (SPOILER ALERT, in case you are one of the 12 people left in the world who didn't see it), the East High Wildcats sing and dance their way through the summer job scene, Ryan stands up to big sis Sharpay, and Troy and Gabriella FINALLY kiss in Friday night's world premiere of High School Musical 2. This makes the sequel the most watched basic cable telecast ever. Let me clear the air by assuring everyone that this isn't like when Donald Trump called The Apprentice the biggest television show ever. In this case, the words "most" "watched" and "ever" really do apply.
To no one's surprise, HSM2 broke the records for the highest rated TV movie in the ages 6-11 (6.1 million viewers) and 9-14 (5.9 million viewers) demographics. Although it has yet to be confirmed, the remainder of the audience consisted mostly of super cool parents, grown women with inappropriate crushes on Zac Efron, and Ugly Betty's nemesis, Mark. Now, if only there was a way for the Neilson Company to bring us the numbers on how many viewers still have Ryan and Chad's insanely catchy "I Don't Dance" number stuck in their heads.
To celebrate the landslide ratings victory, Disney Channel executives took a cue from Scrooge McDuck and suited up for a swim in their money vault.
Your Daily Blend of Entertainment News
Thank you for signing up to CinemaBlend. You will receive a verification email shortly.
There was a problem. Please refresh the page and try again.