Whitney's Chris D'Elia Joins NBC's Undateable Pilot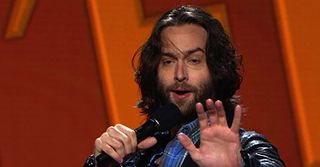 Chris D'Elia is lining up a back-up gig in case Whitney doesn't make it. The co-star of NBC's sophomore series has signed on for a new NBC pilot, Undateable, which will be in second position to his current role opposite Whitney Cummings.
Undateable comes from Cougar Town creator Bill Lawrence and focuses on two very different male friends. Chris D'Elia has been cast in the role of Danny, a confident and attractive guy who is roommates with Justin (Brent Morin), a guy who doesn't have a whole lot of luck with the ladies. Danny will take on the task of transforming Justin and his 'undateable" friends.
D'Elia has several TV credits in addition to his time on Whitney, including Glory Daze and a guest role on Sullivan & Son. He's also still an active stand-up comedian who has a new Comedy Central special on the way this spring, according to THR. With the ratings on the low side for Whitney it's no surprise he might be looking for a plan B; although the comedy did earn a few extra episodes for Season 2, it's still not performing all that well.
Undateable is executive produced by Bill Lawrence, Jeff Ingold, and Adam Sztykiel (Due Date), who is also writing the pilot. It will be directed by Scott Ellis (2 Broke Girls), who is also co-executive producing. The mutil-camera comedy is based on the book Undateable: 311 Things Guys Do That Guarantee They Won't Be Dating or Having Sex by Ellen Rakieten and Anne Coyle.
Your Daily Blend of Entertainment News
Thank you for signing up to CinemaBlend. You will receive a verification email shortly.
There was a problem. Please refresh the page and try again.