12 Days of Christmas: Jericho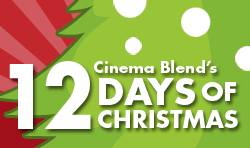 It's time to celebrate the Christmas/ Chanukah/ Kwanza/ Festivus Holiday season, so here at Cinema Blend we're enjoying Twelve Days of Christmas. Yes, we know traditionally the "12 days" start with Christmas, but we plan on being celebrated out by that time, so we're pushing the twelve days leading up to the holiday.
Here at DVD Blend, we're celebrating by suggesting some of the more impressive DVD sets to come out this year. Think of the list as a buying guide for the movie fanatic in your life, just in case you haven't thought of something for them already.
On the seventh day of Christmas, my true love gave to me…
The show that wouldn't die
DVD has gotten me hooked on another show this year: Jericho. I missed most of the show's run on television, so I wasn't a part of trying to save the show from an early cancellation. I figured I'd pick the series up when CBS started to air new episodes after the "nuts" movement saved the show, but the network's decision to air recaps instead of full episodes was a deterrent. Finally, however, the show hit DVD, and I got to see what I was missing – and it was a lot.
If you haven't gotten caught up in Jericho's post-nuclear nightmare, you really should. The show has a lot to offer fans of dynamic storytelling, from mysteries, drama, and even potential conspiracies. Basically, the series has something that appeals to just about anyone, and could easily turn into a runaway hit if given the chance.
CBS is using Jericho's second season as a mid-season replacement (which is coming sooner instead of later thanks to the writers' strike). Give your loved ones a copy of the first season on DVD for the holidays and they can get caught up and ready to become part of the Jericho nutty fanbase before the second season begins.
The perfect gift for… fans of dynamic storytelling. Beyond that, the show has something for just about anyone who is willing to give the series a chance.
Read all of Cinema Blend's 12 Days of Christmas features in other sections by clicking here.
Your Daily Blend of Entertainment News
Thank you for signing up to CinemaBlend. You will receive a verification email shortly.
There was a problem. Please refresh the page and try again.