12 Days Of Christmas: Pixar's Short Stories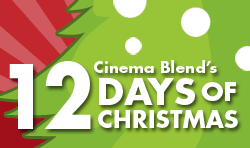 It's time to celebrate the Christmas/ Chanukah/ Kwanza/ Festivus Holiday season, so here at Cinema Blend we're enjoying Twelve Days of Christmas. Yes, we know traditionally the "12 days" start with Christmas, but we plan on being celebrated out by that time, so we're pushing the twelve days leading up to the holiday.
Here at DVD Blend, we're celebrating by suggesting some of the more impressive DVD sets to come out this year. Think of the list as a buying guide for the movie fanatic in your life, just in case you haven't thought of something for them already.
On the eleventh day of Christmas, my true love gave to me…
Short stories by Pixar
Pixar didn't really come to mainstream attention until Toy Story, but the Pixar story, and their creations, begin long before their first feature length movie. Combine their early short films with the continued trend of attaching a short movie in front of all of their feature films, and on top of that the short follow-up movies that are put on DVDs, and you've got quite a collection of short films by Pixar.
I've owned quite a few of these short stories in the past, when Pixar released these on VHS with the catchy title Tiny Toy Stories, and I have to say they are incredible. From the story of Luxo Jr, the lamp displayed in Pixar's logo, to the dream of a unicycle, to a collection of knick knacks celebrating to tunes by Bobby McFarin, the old Pixar shorts are varied and eclectic, but every one is enjoyable.
There's a part of me that wishes they didn't include the short films that hit DVD with feature films, like Mater and the Ghostlights or Jack Jack Attack, because dedicated Pixar fans already have those with their feature films. It's neat to compare how animation has evolved by having them here, though, and it makes this a more worthwhile set to own instead of just the half a dozen shorts that stand on their own.
The perfect gift for… kids with short attention spans, anyone who loves the films Pixar has created, and the Disney enthusiast who doesn't already have this.
Read all of Cinema Blend's 12 Days of Christmas features in other sections by clicking here.
Your Daily Blend of Entertainment News