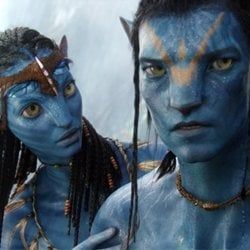 It's the time of year when every site on the planet is compiling their retrospective "Best of" lists, and we're no exception. But when it comes to the world of home entertainment and DVDs, what exactly constitutes the "best" of the year? Is it the highest profile releases? The ones that brought in the most bank? The ones with the most expansive bonus features? Maybe just an unexpected gem that came out of nowhere? The answer, as far as we're concerned, is all of the above.
Hollywood may be feeling the recession in its pocketbook lately, but that didn't stop movie and TV fans from having a great array of DVD releases to choose from. Here are our favorite titles we added to our shelves in 2010.
The Alien Anthology
Until Ridley Scott's as-yet-unmade prequel officially makes it into the canon, the Alien series will have to make do with this enormous, six-disc Blu-ray anthology. Shucks, right? This isn't the first time these films have been compiled together, but they've never looked or sounded better. On top of that, you get multiple versions of each movie to choose from. And then there's, oh I don't know, about three days' worth of special features for your sci-fi addled mind to wrap around. No other set this year had H.R. Giger talking about sexual imagery. Whether you're interested in isolated film scores, monster make-up, James Cameron's lack of military knowledge, special effects, or thousands upon thousands of on-set photographs, then look no further. Commentaries, directors' notes, and hundreds of interviews give you any and all insight you will ever need for any aspect of conception or filming. (As if Alien: Resurrection needed such a lengthy revisit.) It comes in a gorgeous, weighty case that could double as a bookend. And to finish my necessary short-changing of this amazing set, one gets to enjoy the interactive Mu-Th-Ur mode, which allows you the chance to connect the first time you see Ripley's shaved head to a featurette about the decision to shave the character's head. What's more fan-riffic than on-demand information about a movie you love? Well, it's got two mouths, but you have to build it yourself. 2010 has done no better than the Alien Anthology for your Blu-ray money. Scream about it where people can actually hear you. (You can read Nick's exhaustive review of the Alien Anthology right here.)
Avatar
When it came time to bring Avatar home, Fox surprised nobody by relying on one of the oldest tricks in the book -- the DVD double-dip. When James Cameron's sci-fi epic first hit Blu-ray and DVD back in April, it sold 1.5 million units in the first day, shattering the 600,000 unit bar set by The Dark Knight. That's an even more impressive feat when it was all but certain that a bigger, better release would be coming out later in the year. Sure enough, October brought us the Avatar (Extended Collector's Edition), a three-disc monster that packed tons of bonus features in alongside an extended cut of the film that added 16 minutes of new footage. While opinions about the film itself might vary, there's no question that Avatar is a visually stunning film that makes the most of a home-entertainment set-up, and the Extended Edition is a must-have for fans. (You can read David's review of the initial Avatar Blu-ray release right here.)
Back to the Future (25th Anniversary Trilogy)
The Back to the Future trilogy is one of those no-brainers that fans knew would show up on Blu-ray eventually, but that didn't make the wait any less annoying. Thankfully, this year's 25th anniversary served as the perfect excuse to finally deliver the adventures of Marty McFly and Doc Brown to us in beautiful Blu-ray. And when it came to bonus features, Universal delivered a selection worthy of one of the defining trilogies of pop culture history. You've got commentaries from writer/producer Bob Gale and producer Neil Canton. You've got making-of featurettes spanning the two and a half decades since the original film. You've got relics like the footage of Eric Stoltz, the original Marty McFly. The set gives you an exhaustive look at the creation of the three films, but the real treat here is the movies themselves, spiffed up like you've never seen them before. Just don't dive in unless you've cleared your schedule, because you just might run outatime. (You can read Ed's full review of the set right here.)
Cyrus
Sometimes a disc is special because it offers a million features, or because it looks pretty on the screen. Cyrus is important because it uses advances in Blu-Ray technology to present the film in a neat and helpful layout, adding a little more greatness to an already great film. The disc is as browse-able as the best web databases and has just the right amount of special features, including director commentary, deleted scenes, and interviews with several of the main characters. Cyrus is an indie flick that created a lot of buzz, even for its small budget and even smaller profit margin, and it didn't need to create anything spectacular for its Blu-Ray release to entice its niche audience into buying a copy. You won't find anything flashy or showy on the disc, although you will be able to bookmark your place for later. You won't be sucked in by the extra features , although each segment is a reminder of why the film works so well. Cyrus is a triumph of a limited budget going a long way, offering features you cannot find on most other Blu-Rays, and offering brief glimpses into the lives of its creators and characters that leave as lasting of an impression as the film itself. (You can read Jessica's review of Cyrus right here.)
Fantasia/Fantasia 2000
Packaging these two films together was sheer genius. Every now and again, it seems like a great idea to watch Fantasia all the way through, but the same isn't true of Fantasia 2000. The thing about Fantasia 2000 is, it has several great sketches, but it doesn't flow together as well as the original. With this update, audiences can play Rhapsody in Blue alongside Dance of the Hours alongside The Sorcerer's Apprentice; it'll take a little disc changing, but essentially you can make your own evolving version of the film. This isn't why this Blu-Ray makes the list, though. Lately, Disney has been attempting to create Blu-Rays that are overly interactive, with hidden features and crazy side effects. If you look at the Beauty and the Beast disc released this year, you'll see how Disney took complicated to a new level, making for a beautiful disc that is irritating and near impossible to work with to reach all of the features. With Fantasia/Fantasia 2000, the creators did not attempt to go overly interactive, instead creating a multiple-disc set whose features flow get along nicely, spurring a second wave of connections between the two films. The disc isn't devoid of magical touches, either, with colored bars playing different notes as you scroll, etc. It's a near perfect amalgamation for a film that may yet find another way to evolve. (You can read Jessica's review right here.)
Grindhouse (Two-Disc Collector's Edition)
Grindhouse's theatrical run netted barely half of its budget, so it wasn't too surprising that when time came to release Robert Rodriguez and Quentin Tarantino's magnum opus on DVD, The Weinstein Company hedged its bets and put out Planet Terror and Death Proof as separate releases. Finally, three years later, Grindhouse was reunited and got the release it deserved. In addition to including the two features with all the fake trailers and intermission cards from the theatrical release, the set includes a dozen or so featurettes, poster galleries, and more. The Blu-ray version goes even deeper with extended versions and making-of segments for several of the fake trailers, including "Werewolf Women of the SS," "Don't," and "Thanksgiving." Hell, you even get the Grindhouse trailer contest winner "Hobo With a Shotgun," which is following in the footsteps of Machete and becoming a real thing, this time with Rutger Hauer as the titular shotgun-toting hobo.
Lost: The Complete Collection
For all its ups and downs, no other show has generated quite so much discussion, frustration, and amazement over recent years as the time we spent on (and off, and back on again) the mysterious Island. From the very beginning, the Lost DVDs set a high standard, packing extensive commentaries and featurettes into each season's release. Once the show finally wrapped up and it was time to put out a complete-series set, that bar was reached again with Lost: The Complete Collection. Packaged inside a snazzy case designed to look like a stone from the Temple, The Complete Collection bundled together all the goodies from the previous releases alongside a slew of new featurettes looking back at the series as a whole and the controversial finale (not to mention a few surprises and Easter eggs). While it had already escaped online before the official release, fanboys and girls alike will appreciate the "New Man in Charge" epilogue that wraps up a few dangling plot threads and features more of the dynamic duo of Hurley and Ben. It's a crash course in all things Lost, and it's a set no fan of the show should be without. (You can read Katey's full review of Lost: The Complete Collection right here.)
Max Headroom: The Complete Series
For a list like this, it's easy to pick the flashy releases like Avatar or the beloved titles like the Back to the Future movies. Sometimes, however, what is most exciting about the world of DVD isn't taking home a copy of the latest and greatest for your collection; it's discovering the curiosities you never thought would see the light of day outside of decaying VHS copies and convention dealers' tables. I picked up a bootleg copy of Max Headroom years ago in San Diego, and I was all but certain that the grainy, umpteenth-generation copy would be the only way I'd ever get to watch this dark, stylish relic. Thankfully, Shout! Factory has again proven itself the best friend of the niche TV market by releasing the entire series on DVD this past summer. While those of us who survived the '80s all remember Matt Frewer's frenetic performance as virtual pitchman Max Headroom from the Coke commercials, far fewer remember the short-lived cyberpunk series that cast Frewer as Edison Carter, an intrepid reporter for Network 23 who is killed and then reborn as Headroom after a copy of his mind is uploaded into the computer. The show was ahead of its time, with a cutting satirical eye and plenty of bleak humor. Even better, Shout! Factory went the extra mile by including several bonus features when a cult title like this could easily have come out bare bones.
The Pacific
Last year, executive producers Steven Spielberg and Tom Hanks followed up their excellent HBO miniseries Band of Brothers with the equally memorable The Pacific. When it came time to release the series on DVD, they kept their priorities straight and focused on what really matters: the real men and women who served and died during the Pacific campaigns. While the final disc of the set includes featurettes examining the production itself, the other discs provide extensive historical background into this corner of World War II, the battles portrayed on-screen, and the men and women whose stories are being told. Each episode includes an alternate viewing option that intersperses the action with interviews with historians, authors, and the surviving veterans who really lived it, as well as the family and friends of those who have already passed away. Beyond that, you can also delve into trivia sections that go even deeper with interviews, maps, and archive footage that really pick apart the events portrayed in each episode. The series itself is masterful, but the DVDs also serve as an educational tool and a fascinating look at the real faces behind the fiction. I absolutely recommend picking up the Blu-ray set, because this is a series that demands to be seen in high-definition, where every spec of dirt and smear of blood is rendered in crystalline clarity.
Pirate Radio
Known as The Boat That Rocked in its U.K. release, Pirate Radio's vast star power couldn't recoup its $50 million budget, and as such, it was only given a rather underwhelming, stripped-down DVD release. The disc is neither super expansive nor overloaded with special features, but it makes this list because the commentary is insightful, the film is offbeat, and the deleted scenes were the best I saw all year. Pirate Radio suffered because it sacrificed comedy for plot. They weren't the next Little Miss Sunshine, but they could have been the next Role Models. The disc is streamlined and simple, and if they had done with the film what creators did with the disc, the film might have been the most successful escape comedy in its year. Then again, if the film had been more successful, the special features may have gotten a complete overhaul, losing its simple effect, and thus suffering under the scrutinizing eyes of its creators. In that case, this paragraph wouldn't be here. As it stands, Pirate Radio can't be the best DVD from 2010, but it certainly is the most rollicking. (You can read Jessica's review right here.)
Spartacus: Blood and Sand -- The Complete First Season
I've written no end of praise about Spartacus: Blood and Sand, but that's mainly because it was such a pleasant surprise. After a stylish but underwhelming pilot, the show -- under the guidance of Whedonverse veteran Steven S. DeKnight -- went on to become one of the best shows of the year. Buoyed by an amazing cast and a charismatic lead in Andy Whitfield, each episode of Blood and Sand seemed to build in quality, finally culminating in a bloody -- and bloody satisfying -- finale. It's no surprise that the show earned a mention on Cinema Blend's list of the year's most memorable TV moments, nor that picking just one was tricky. The show absolutely demands to be seen on Blu-ray, with its graphic-novel visuals bursting with color and texture. I gave the set five stars for presentation and nearly as many for the show itself, and it's a rating I still stand behind several months later. With prequel series Gods of the Arena gearing up to launch in a few short weeks, this is the perfect time to dive into one of the most uniquely entertaining shows of 2010. And if DeKnight and company maintain their track record, you can expect Gods of the Arena to wind up on a lot of lists like this one next year. (You can read David's full review right here.)
The Twilight Zone: Season 1
Image Entertainment has been doing Twilight Zone proud on DVD for years now, releasing progressively more impressive collections of Rod Serling's iconic anthology series. It wasn't until this past September, however, that we were able to enter another dimension in high-definition, and it was absolutely worth the wait. In addition to beautifully restored prints of the show's entire first season, this set is absolutely bursting at the seams with bonus features. Many episodes include multiple commentaries from surviving cast and crew, as well as experts such as Twilight Zone Companion author Marc Scott Zicree. The set includes numerous audio interviews with folks like director of photography George T. Clemens or actors Burgess Meredith, Anne Francis, and Martin Landau, and even vintage recordings of Serling lecturing about the show and his career at Sherwood Oaks College. There are syndication promos for the show, dozens of isolated music scores, and even modern audio drama versions of many of the stories. Best of all, the set includes truly rare artifacts such as the original unaired pilot version of "Where Is Everybody?" and the never-before-released unofficial pilot "The Time Element," written by Serling and originally aired as part of the Westinghouse Desilu Playhouse. The Twilight Zone is one of the defining shows of television history, and this is a set I cannot recommend highly enough. Even better, Image has continued what it started here and released a Blu-ray set for season two, with season three slated to arrive in February. (You can read David's review of the set right here.)
The World at War
I loved The World at War, and I'd be the first to admit the series, its discs, and its accompanying special features have some problems. Yet, unless this paragraph doesn't pan out, there is no chance The World at War will evade this list. Its scope is so broad and so expansive, its information so particularly precise, and it looks beautiful when restored on Blu-Ray. Most of the special features are not new to this Blu-Ray enterprise, so if you have an earlier copy, I'm not advocating you spend over a hundred dollars to own it again. However, if you are a new buyer, get the Blu-Ray. There's a featurette that accompanies the set explaining the restorative process; it allows you to truly appreciate the expanded beauty behind the new discs, and the work behind that beauty. Even the darker corners of our past deserve to be remembered as traumatically and colorfully as they actually happened. (You can read Jessica's review right here.)
Your Daily Blend of Entertainment News