Stephen King Revitalized With Stand By Me Blu-Ray Release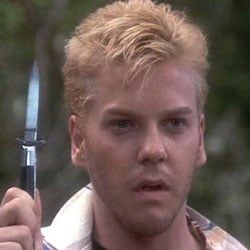 Stephen King is known for stories, but a good percentage of his work has been reworked into films over the years. In turn, these films were transferred onto videocassettes, or DVDs, and finally, Blu-rays. Misery, The Shining, and Carrie have all made the leap onto Blu-ray, but now a classic King coming-of-age story will getting the digital upgrade.
Stand by Me, based on King's short story "The Body," will be hitting Blu-ray on March 22nd. The film was initially released in 1986 and features the late River Phoenix alongside Corey Feldman, Jerry O'Connell, Kiefer Sutherland, and Wil "Don't Call Me Wesley" Wheaton. Since no one back in the '80s was anticipating DVDs and recording special features, we'll have to make do with a bunch of thrown-together "remember when" sequences. Luckily for us, the lack of extras will also mean the disc will run the reasonable price of $24.95. We could do worse.
The features will include a picture-in-picture chat with director Rob Reiner, audio commentary, a featurette entitled "Walking the Tracks," and the video for the epic song "Stand by Me." This kind of retrospective stuff shouldn't be a problem for Stand by Me, but when we get wind of Pet Sematary hitting Blu-ray, we'll just have to hope someone recorded the ins and outs of the special effects to discuss them in all their gory Stephen King detail.
Your Daily Blend of Entertainment News