Vacancy At The Meadow View Inn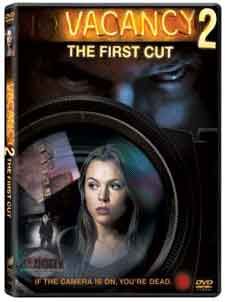 After watching Vacancy, would you dare watch it again? Most of us were so extraordinarily freaked by the brutal murders in the Pinewood Motel that we wouldn't dare take another look at the flick. Sony Pictures Home Entertainment doesn't seem very concerned because on January 20th Vacancy 2 will hit stores on DVD.
Vacancy 2 is actually a prequel to the original film. It tells the story of how the murder tape craze began. Unsuspecting guests would visit the Meadow View Inn only to have their sexual interactions recorded. The hotel's manager would then sell his low budget pornography to make some extra bucks. After a man brutally murders a hooker, the manager catches the whole thing on tape and decides to pursue a new videotape business. Caleb (Trevor Wright), Jessica (Agnes Bruckner), and Tanner (Arjay Smith) are the first victims to be subjected to the homemade horror flick plan. The ultimate, and obvious, question is: can they survive?
Yes, Vacancy was a typical terrifyingly fun horror movie, but something about it rubbed me the wrong way. I'll put it this way; I'll never sleep comfortably in a hotel room with an adjoining door again. But just because I'm petrified of the original film doesn't mean I'm not going to pick up a copy of the second. Horror movies are meant to create bumps in the night, as long as you can console yourself by remembering they aren't real. Unfortunately, for some films, that isn't an easy task.
If you make it through the film you can move onto the bonus material which includes deleted scenes, a behind-the-scenes featurette, "Behind the Facade: Constructing the Meadow View Inn" and commentary with the filmmakers and cast.
Staff Writer for CinemaBlend.
Your Daily Blend of Entertainment News
Thank you for signing up to CinemaBlend. You will receive a verification email shortly.
There was a problem. Please refresh the page and try again.