You May Not Have Aliens In Your Attic, But You Can Have Them On Your Shelf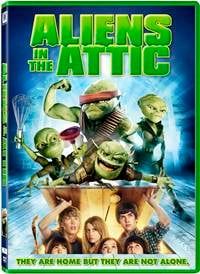 CinemaBlend head honcho Josh Tyler wasn't crazy about Aliens in the Attic. Not having seen it, I can't speak to whether I agree with his review, but the early version of the script I read (back when it was still called They Came From Upstairs) had its moments. Of course, on the page it also didn't have Ashley Tisdale, so that may have left with me with a more favorable impression. At any rate, we can all make our own minds up in a few weeks when Aliens in the Attic hits Blu-ray and DVD on November 3rd.
The flick begins when the Pearson family heads out to their vacation home for some much-needed family bonding time. Unfortunately for them, that vacation home is ground zero for a tiny, green invasion force led by an alien named Skip. As always happens in these situations, our only hope for humanity's salvation lays with the kids, who must team up to thwart the forces of Skip using a combination of gumption, pluck, and precociousness.
Between the two of them, Aliens in the Attic screenwriters Mark Burton and Adam F. Goldberg are responsible for Wallace & Gromit in the Curse of the Were-Rabbit, Madagascar, Fanboys, and Daddy Day Care, so a bit of a mixed bag there. And like every other animated movie these days, it's got a voice cast full of people you've probably heard of: Doris Roberts, Andy Richter, Kevin Nealon, Tim Meadows, and Ashley Tisdale. The standard DVD will run you $29.98 and the Blu-Ray $39.99.
Blu-Ray Disc and Standard DVD Bonus Features
Disc One
Introduction to the Film With Ashley Tisdale
The Ashley Encounters
Deleted Scenes
Gag Reel
Behind the Zirkonians
Meet the Zirkonians
Disc Two
Digital Copy of Aliens in the Attic (Blu-Ray Exclusive)
Image 1 of 4
Image 2 of 4
Image 3 of 4
Image 4 of 4
Your Daily Blend of Entertainment News
Thank you for signing up to CinemaBlend. You will receive a verification email shortly.
There was a problem. Please refresh the page and try again.