Nintendo Switch Adds Another Launch Title Ahead Of Release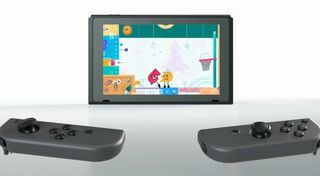 (Image credit: Nintendo)
While the launch line-up continues to receive critical remarks from everyone on the outside looking in at Nintendo's software stash for the Nintendo Switch, Nintendo has been quietly adding more games to for the March 3rd release of their new hybrid portable home console.
According to Gamespot, Nintendo's first-party party game, SnipperClips, will be available day and date with the Nintendo Switch on March 3rd. SnipperClips will join the likes of 1-2-Switch, The Legend of Zelda: Breath of the Wild, Skylanders Imaginators along with Shovel Knight and World of Goo. They also have a few other titles lined up for a day-one release with the Nintendo Switch as well.
Recently, Shin'en Multimedia, the group of graphics engineers from Germany, announced that their racing title that's an homage to F-Zero called Fast RMX will also be a launch title. That's a huge boost for the overall launch line-up appeal for the Nintendo Switch. They really needed a good variety of games to lure in a wide group of gamers, especially given that 1-2-Switch hasn't exactly been winning gamers over.
Announcing that SnipperClips will also join the launch line-up of Nintendo Switch titles will also help out a ton, especially given that the title was previously pegged with a nebulous March release date. Now that it has a solid date gamers will be able to pick up the game alongside the a Nintendo Switch console.
SnipperClips hasn't been one of the games from Nintendo's line-up that's received a lot of attention. The game is a unique multiplayer party experience, where up to four players can work together (or against each other) to solve a variety of logic puzzles. The game sees players having to snip and cut at the oddly shaped design of other players in order to form them into specific shapes to solve a variety of puzzles.
I understand that the above description makes absolutely no sense whatsoever, but that's exactly how the game is played. You can jump on your teammate/opponent's head, utilize physics-based properties to move objects around, and attempt to solve levels using unorthodox methods of teamwork. Again, this probably makes absolutely no sense, and only Nintendo could come up with a game that makes it next to nigh impossible to describe accurately and adequately in words.
However, there was a 13 minute video that IGN put out featuring a gameplay demonstration from Nintendo's Treehouse crew that you can check out below to attempt to get an understanding of how the game can be played. It took me all of nine minutes to finally grasp the depth and complexity of the game. Check it out below.
I have no idea how well a game like SnipperClips will sell for the Nintendo Switch. However, Gamespot notes that the game will be available as a standalone as well as bundled in with a Joy-Con package, so you can get the controller and a digital code to download the game. Even then, I don't know how well it'll sell but you have to give Nintendo props for thinking outside the box. You'll be able to pick up a copy of the game starting March 3rd with the launch of the Nintendo Switch.
Staff Writer at CinemaBlend.
Your Daily Blend of Entertainment News
Thank you for signing up to CinemaBlend. You will receive a verification email shortly.
There was a problem. Please refresh the page and try again.