It Looks Like Nintendo Is Interested In More 3D Gaming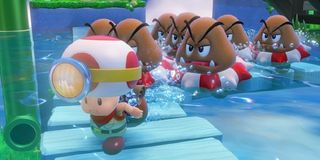 If there's one thing Nintendo has become known for over the years, it's finding fun ways to play video games. And based on a recent patent, it looks like the company has still got an eye set on bringing 3D gaming into the living room.
The folks over at Comicbook recently stumbled upon a patent filed by Nintendo that shows the company is still very much into the idea of 3D gaming. They pioneered glasses-free 3D with the appropriately-named 3DS console, and it looks like they want to bring that same experience onto the big screen. The patent is pretty straightforward, highlighting two different setups for the proposed technology. While one option allows for a glasses-free option and the other requires some special specs, they both rely on a camera placed on the television screen that tracks the movement of your eyes.
The idea, according to the patent, is that this would allow whatever hardware the device is plugged into to crate realistic 3D images, adding depth to a video game that isn't actually there.
Of course, patents like this are getting filed pretty regularly, so we shouldn't hold our breath just yet. It sounds like Nintendo is just kicking the idea around at the moment but, even in these early stages, it's best to get your patent rolling. They may try to make this a Switch peripheral, they may be fine-tuning it for a future console, or they might end up scrapping it completely. The point is that they are clearly still interested in bonkers new tech, and we're 100 percent here for it.
Nintendo is, at its heart, a toy company. Sure, they make fantastic games; but only after they've created a fun new piece of hardware meant to push everyone's favorite pastime in unexpected new directions. They made gaming on the go possible with the Game Boy, took a swing at far-too-early VR gaming with the Virtual Boy and, over the past several console generations, they've taken a swing at altering the way folks interact with their games. Heck, even the Nintendo 64 and GameCube sported totally unique controllers. Nintendo keeps trying new things, even when they seem to find formulas that work.
What's really interesting here is that Nintendo seems to be shying away from the emergent VR market. Virtual reality gaming grew by about 30 percent last year, leading industry analysts to speculate that there could actually be a future for that type of gaming in the years to come. Rather than try to figure out a way to put their own spin on VR gaming, it looks like Nintendo is instead going a completely different route. Not totally unexpected given their past, but it'll be interesting to see if this new 3D tech actually pans out.
What do you think, folks? Does this type of 3D gaming on the couch seem like something you'd buy into? Would you rather Nintendo focus on a VR solution of their own? Let us know in the comments below.
Your Daily Blend of Entertainment News
Staff Writer for CinemaBlend.