Pokemon Go's New In-Game Event Is All About The Water, Get The Details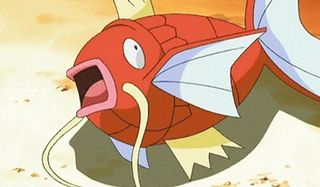 Spring is here, which means it's nearly time for April showers. In Pokemon Go, they're keeping with the spirit of the season by putting a temporary focus on water type Pokemon. Get your rubber boots ready, it's time to hunt Magikarp.
The Pokemon Go scene is still alive and well, with regular updates giving dedicated players reasons to keep coming back for more. The team at Niantic have also made regularly occurring in-game events a big part of the draw, like the one they've got going on to celebrate the arrival of spring.
Starting today, players can take part in the Pokemon Go Water Festival, an event that runs through 1 p.m. PST on March 29. For the next week, trainers will be able to come across water type Pokemon in-game more regularly. So even if you don't live near a big lake or river, you might be able to get your hands on Squirtle, Totodile and the like more easily. You might even come across their evolutions out in the wild, too.
While the water type Pokemon originally available in Pokemon Go will be more common across the entire map, Generation 2 pocket monsters from the Johto region, which released more recently, will start popping up more regularly around water. So whether you're near some H2O or not, you should be able to get plenty of splashtastic Pokemon over the next seven days.
Since Niantic recently introduced cosmetic items into Pokemon Go, you better believe they're offering something new to coincide with the Water Festival. Head on over to the in-game store and you'll also find a Magikarp Hat that your trainer can wear.
And in case you were curious, the answer is yes, Lapras will be appearing as a rare spawn throughout the event. If you haven't gathered up enough resources to evolve the critter yourself, maybe you'll be able to hunt one down instead.
So what do you say, folks? Is this enough to get you off the couch and back out catching Pokemon before the weather turns too hot? While the Pokemon Go phenomenon has certainly cooled off since its launch, there are still loads of people out there playing on a daily basis. Events like this Water Festival are a nice incentive to keep people hunting, so we're happy to see Niantic continuing to support the game with themed activities between the bigger updates.
But that's got us wondering, are our readers still tooling around in Pokemon Go from time to time? If so, what's kept you so dedicated? If not, what would it take to bring you back into the fold? Let us know in the comments section below.
Your Daily Blend of Entertainment News
Staff Writer for CinemaBlend.