The First Nintendo Switch Special Edition Will Have A Monster Hunter XX Theme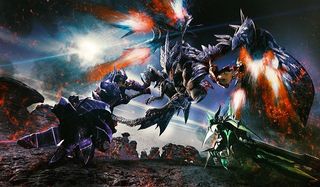 If you've been holding out on buying a Nintendo Switch, your patience is being rewarded with an opportunity to potentially get the console's first special edition design. That'll be doubly nice if you're also a fan of the Monster Hunter series.
It was recently announced that the Nintendo Switch will get a redesign based on the similarly recently announced Switch version of Monster Hunter XX. The folks over at Polygon are reporting that the new console, similar to the game, has only been announced for Japan at this time. However, given the success of both the Monster Hunter game series and special edition designs for Nintendo consoles overseas, we wouldn't be surprised to hear a localization report in the coming weeks.
As for the design, it's a bit on the underwhelming side. There's no special color scheme or unique Joycon controllers to get your hands on. It appears that nothing is being done to the Switch tablet itself, either. Instead, this special edition will boast a nice but practical Monster Hunter theme on the dock alone, which we imagine won't make it too much of a "must have" option. Gamers want special editions of portable game consoles so they can show them off in public, so it's a bit on the "meh" side when the conversation will boil down to "oh, yes, this is the Monster Hunter edition, but you can't really tell unless you follow me home and take a look at the dock."
Still, it's nice to see that Nintendo plans to keep this type of practice alive and well with the Switch. We fully expect to see similar versions launching alongside other big games in the future. And if you're listening, Nintendo, a Zelda-themed console bundled with Breath of the Wild during the holiday season would probably be a huge draw this year. Just my two cents.
While the Monster Hunter version of the Switch might not be mindblowing, we're at least excited for the game itself. The series has always been about communal gaming and, as more and more Switch consoles make it to market, we imagine plenty of folks will be playing Nintendo's newest console in public. Throw in a sharp-looking game like Monster Hunter XX and you've got a recipe for success.
Even cooler is the fact that Nintendo is actually making the game cross-platform. The Switch version of Monster Hunter XX will play nice with the 3DS version, so those rare Switch owners should have more folks to team up with while the 3DS crowd doesn't have to feel like they're being left out on the fun thanks to a shiny new console they either can't or aren't willing to make the jump to just yet.
Now all we need is an announcement that the game and special console are launching outside of Japan and we'll be set.
Staff Writer for CinemaBlend.