Classic Adventure Game Syberia Is Being Re-Released On Nintendo Switch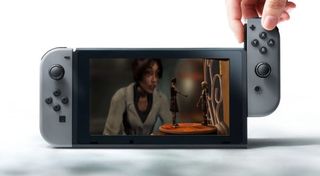 (Image credit: Microids)
Having previously announced Syberia 3 to the Nintendo Switch, Microids has now decided to go back to the beginning, as the first game is now going to ported to the new console.The old game is being remastered for the Switch by Koalabs, allowing gamers to play the first title in the series on the portable console.
Microids sent out the word that Syberia 1 would be made available for the Nintendo Switch starting October 20th. The game will be a full release of the original game that came out for PC and home consoles back in the early 2000s.
The game follows Kate Walker, a New York lawyer, who ends up traveling to the French Alps where she attempts to oversee the sale of an automaton factory hidden deep in the mountains. When Walker gets there, she finds out that the current owner of the factory, Anna Voralberg, is on her deathbed. Before passing, Anna reveals that she has a brother, Hans, located in the mythical Syberia. Before Kate can complete the sale of the factory, she has to go visit Hans.
Kate travels to Syberia and meets the Youkols, a native tribe who has managed to tame and live with some strange creatures, as well as encounters a variety of other characters and villains alike.
The Youkols play a pretty big role in the future Syberia games, but the first game introduces players to a lot of the elements you later encounter in the two sequels. You can get a small rekindling of what the original game looked like with the first ever trailer showcasing the remastered version of the game running on the Nintendo Switch via the Microids YouTube channel.
They don't focus much on the actual gameplay, but Syberia is a point-and-click adventure game, designed to attract gamers who enjoyed titles like King's Quest and Monkey Island. Microids' point-and-click likely shares more in common with the Dreamfall games, though, since the titles focus on interacting with the environment, finding clues, and solving some light puzzles.
In the original games, the titles had 3D characters in 2D backgrounds based on 3D renders, giving the game the classic cinematic look. Fixed camera angles and full voice-overs also helped bring Benoit Sokal's vision to life.
The third game, Syberia 3, which came out earlier in the year for the home consoles and PC, utilizes fully rendered 3D to tell its story. That game was supposed to come out in the spring for the Nintendo Switch but it was delayed. We'll see how well the first entry in the series fares on the Switch this fall, and likely get a better idea of when Syberia 3 will launch for the Switch as well.
You can look for the original Syberia to launch for Nintendo's new portable console come October 20th. The game will be available as a digital download.
Your Daily Blend of Entertainment News
Staff Writer at CinemaBlend.