Nintendo Is Bringing Classic Arcade Games To The Switch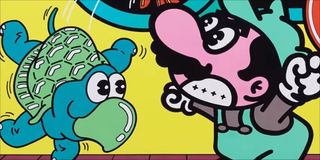 Nintendo has a huge wealth of classic games that many gamers can't wait to play via the Virtual Console. However, what if Nintendo decided to do something a bit different by re-imagining some of the classic titles from yesteryear but with all of the cool new features offered up by the Switch? You can see what the company has in store for us, below.
During the latest Nintendo Direct that aired over on the Nintendo YouTube channel, it was revealed that a collection of classic Nintendo arcade games will be remade and re-released for the Nintendo Switch, all while keeping the classic gameplay and features that made those games fantastic back in the day. Arcade Archives: Mario Bros. will also come with a few new tweaks such as TV and portable support, and the ability to play through most of the games utilizing the Joy-Cons in cooperative (or competitive) modes.
Some of the arcade games in the list include classic titles like the original Mario Bros., where both Mario and Luigi battle it out in single-screen action attempting to make it through increasingly difficult obstacles as the levels progressed. Nintendo will also be adding Versus Mario Bros.,Versus Balloon Fight, Versus Ice Climber, Versus Pinball, Versus Clu Clu Land, and Punch-Out.
There are actually more games that will be available in the compilation pack, which is due for release on September 27th.
Arcade Archives: Mario Bros. is definitely a great way to reacquaint gamers with some of Nintendo's classics that were slightly different from what was on the NES and Gameboy back during the 1980s.
There's no mention in the video if there will be Amiibo support for the game, but it would be a pretty cool addition if it were added.
Nintendo has been reviving a lot of its classic old-school titles lately, so if the sales of the NES Classic Edition are anything to go by, the Arcade Archives: Mario Bros. compilation pack just might sell as well. We'll also be able to tell how much gamers are interested in nostalgia when the SNES Classic Edition arrives on the market later this month, featuring some of the best and brightest SNES games from yesteryear. Essentially, gamers will be flooded with plenty of retro-tastic Nintendo games throughout September.
Sadly, a lot of these games are not available individually due to the fact that the Nintendo Switch still doesn't have a viable Virtual Console mode. Hopefully Nintendo adds the mode at some point in the near future so gamers will be able to individually pick and choose the retro titles they want to play.
In the meantime, you can look for the Arcade Archives: Mario Bros. pack to launch on September 27th exclusively for the Nintendo Switch.
Your Daily Blend of Entertainment News
Staff Writer at CinemaBlend.