My Nintendo Members Can Now Use Gold Coins For Free Games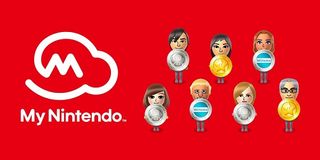 If you've been hording you My Nintendo coins, waiting for something good to spend them on, then you might find something of interest in the latest batch of goodies. Nintendo has added actual games to the list of digital prizes you can purchase with the currency.
Most of these games probably won't blow your hair back, but they're definitely a step forward for the new version of the rewards program.
According to Polygon, our games have been added to the lineup, including two for the Wii U and two for the 3DS. You can grab Runner2 on the Wii U for 90 points and Art of Balance for 60 points. Zen Pinball 3D is on the 3DS for 50 points, with Super Little Acorns 3D Turbo up for 60 points.
Up until now, the new My Nintendo program has been similar to the old promotion, only no games were included in the collection of prizes you could claim. In short, you got coins for buying Nintendo products and registering them with the company. You could also earn some coins by messing around in games like Miitomo. Once you had a nice little stash of coins, you could spend them on things like themes and wallpapers, as well as discount coupons for certain games on the digital marketplace. In all honesty, it's been a pretty lackluster program that didn't seem to really reward anybody.
Back in the day, before Nintendo did a revamp of their rewards program, the coins you collected were actually a great way to add the occasional small game to your 3DS, Wii or Wii U collection. They had some pretty decent titles in the mix as prizes, but the best swag actually came when they announced the old My Nintendo program would be shutting down. All sorts of great games got added to the roster for folks to throw their piles of coins at, including games from the Super Mario, Kid Icarus and Donkey Kong franchises.
We're not expecting those types of games to start popping up on the new My Nintendo program, as they only made it into the rotation with the old program as a sort of "going out of business" celebration. Still, we're hopeful that they'll keep rotating in some extra games, and maybe even something will show up that grabs our interest. If nothing else, we've got our fingers crossed that Switch games eventually make their way to the My Nintendo rewards list.
Until then, let us know in the comments below if you plan on spending your coins on any of these new games.
Your Daily Blend of Entertainment News
Staff Writer for CinemaBlend.