Darkest Dungeon Is Getting A Nintendo Switch Release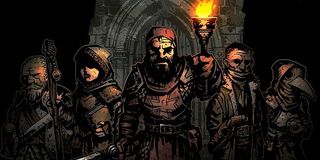 The Nintendo Switch's roster of indie games continues to grow, with more and more "big gets" popping up on the console/portable hybrid. The latest such game, Darkest Dungeon, was recently revealed, through a rather clever tweet, to be heading to the platform.
The above tweet comes from the official Darkest Dungeon feed. It states, quite simply, that viewers should "wait for it." As the video begins, it looks as though we're just watching standard footage from the game. Then the camera pans back and we see that it is, in fact, being played on the Nintendo Switch. We think that's a pretty great way to break the news to fans and newcomers alike.
Sadly, we don't have a launch window as of yet but, given the fact that the game was being played on the Switch in the video, we assume it can't be too far off. Also, as we learned this week, you never know how close to launch an announcement will come. We got word only Monday that the highly anticipated Stardew Valley will be hitting the Switch this Thursday. That doesn't leave a lot of time for giddy last-minute anticipation, and we're actually kind of thankful for that fact.
If you're interested in playing a unique dungeon crawler that's easy on the eyes, you'll definitely want to check out Darkest Dungeon when it hits the Switch. Sure, it's available on other platforms but, once again, we feel like these kinds of games are absolutely perfect for Nintendo's new console. Whether you're on the couch or on the go, Darkest Dungeon is one of those games that plays great in short bursts or long sessions.
Nintendo has made a lot of progress in the indie department this year. Originally hesitant to partner up with smaller developers, it appears the publisher is actively seeking them out these days, using the titles to further flesh out the console's already strong first year lineup of titles. Just a few weeks ago, Nintendo even hosted a Direct video presentation completely dedicated to the indie scene, including the likes of the recently launched Golf Story, Super Meat Boy Forever, the latest chapter in the Shovel Knight series, Kentucky Route Zero, Nine Parchments and No More Heroes: Travis Strikes Again. And that's only a sampling of the games presented during that showcase. Put all of that alongside the likes of upcoming first party games like Super Mario Odyssey, Fire Emblem Warriors and Xenoblade Chronicles 2, and it's clear Nintendo's console is heading into 2018 very, very strong.
Staff Writer for CinemaBlend.
Your Daily Blend of Entertainment News
Thank you for signing up to CinemaBlend. You will receive a verification email shortly.
There was a problem. Please refresh the page and try again.