Why Fire Emblem Warriors' Dev Loves DLC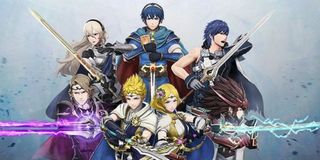 Fire Emblem Warriors for the Nintendo Switch is scheduled to have its fair share of DLC in the coming months. According to Director Hiroya Usuda, the post-launch roadmap is exciting because it gives him an opportunity to respond to what fans want to see added to the game.
Over on Nintendo Everything, Usuda recently fielded a whole bunch of questions pertaining to Fire Emblem Warriors for the Switch, covering everything from the game's DLC characters to the new Armor Strike system. According to Usuda, the best part of offering DLC for a game is responding to the community itself.
Nintendo games have only been in the DLC business for a handful of years at this point. The Wii U's Hyrule Warriors was noteworthy because it boasted a season pass, complete with new levels, playable characters, items, gear and more. Nintendo had dipped its toe into DLC prior to this, but Hyrule Warriors was one of the first games from the publisher to use a model reminiscent of other big AAA developers.
Fire Emblem Warriors, the game's spiritual successor on the Nintendo Switch, is forging a different path. According to Usuda, that's partially due to how successful DLC was with Hyrule Warriors last generation and, similarly, how fulfilling it was for him as a director.
According to Usuda, the biggest draw of DLC as a creator is not how much extra money you can get out of your community following launch. Instead, it's about listening to what the community wants and working to try and deliver that. That's why Usuda said he's open to requests, as the full DLC timeline for Fire Emblem Warriors has not been finalized yet. If a certain character gets requested enough, maybe they'll find their way onto the roster. If a system isn't performing well, or perhaps a new system could improve the game, it sounds like Usuda is all ears.
And as Usuda highlights in the recent interview, not all of the game's updates will come at a premium. The team has already added the much-requested Hero Colosseum and History Mode as free updates. Additional tweaks are being made to the game via regular updates and, again, Usuda said player feedback has a lot to do with what gets plugged in where.
If you've got some time, we'd suggest giving the full interview a read. It's an interesting peek behind the curtain of development for Fire Emblem Warriors and, if nothing else, maybe it'll help whet your appetite before the enhanced version of Hyrule Warriors hits Switch later this year.
Your Daily Blend of Entertainment News
Staff Writer for CinemaBlend.