Nintendo Sold A Lot Of Video Games In July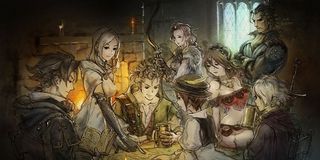 The latest NPD listings are out, with Nintendo leading the charge in terms of video game sales. Things are looking up for games in general, actually, when compared to their performance last year. It seems like the Switch has indeed taken hold, with impressive hardware sales backed by equally impressive sales in games.
The folks over at Forbes recently posted the July 2018 NPD results, which show a commanding performance from Nintendo. It's important to keep in mind that these rankings do not include digital sales, where Nintendo also appears to be doing very, very well for itself.
From the list of top-selling games last month, Octopath Traveler has taken the top spot. That's a Nintendo Switch exclusive, as well as a traditional JRPG, a genre many publishers thought had dwindled to a "niche market." Even publisher Square Enix was taken aback by the success of Octopath, with nowhere near enough copies of the game available at launch.
Moving down the list and the number two slot for July went to Grand Theft Auto V, a game that continues to sell like crazy even though it has been out for five years. This, perhaps, makes the argument that if you make a quality game and continue to support it, consumers will reward that effort.
Since we're talking about Nintendo here, the number three slot goes to Mario Kart 8, another Switch exclusive. Crash Bandicoot: N. Sane Trilogy is fourth and, even though it is technically available on other platforms, we figure its appearance on Switch likely helped boost its performance. Rounding out the top 10 for Switch exclusives are The Legend of Zelda: Breath of the Wild at five, Super Mario Odyssey at seven and Mario Tennis Aces at 10. In fact, the first non-Nintendo console exclusive on the list does not come until the 13th ranking, where you'll find the PlayStation 4's God of War.
If investors were worried about whether or not the Switch had staying power versus being just a first-year success, I figure reports like this help solidify the fact that Nintendo's new console is not only here to stay, but also a force to be reckoned with. A new Monster Hunter is set to launch this week and Smash Bros. in December is expected to light up the charts for some time to come. Combine that with additional console exclusives, some multiplatform support from folks like Bethesda and a huge focus on Nindies, and I'm thinking the Switch's future is looking pretty bright.
According to the same NPD report, game sales are up about 5 percent when compared to last year, with hardware jumping by 21 percent and accessories moving up 33 percent. You've got to figure that all of those hardware sales in July will likely translate into even more games sales in the months ahead.
Staff Writer for CinemaBlend.
Your Daily Blend of Entertainment News
Thank you for signing up to CinemaBlend. You will receive a verification email shortly.
There was a problem. Please refresh the page and try again.