Telltale's The Walking Dead: The Final Season Is Officially Back From The Dead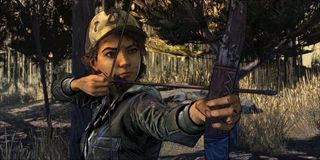 (Image credit: Skybound Entertainment)
After Telltale encountered a tumultuous start to the fall season with the studio going through the unceremonious process of shutting down and having many of its games removed from digital distribution storefronts, there's some good news finally: The Walking Dead games are back from the dead.
IGN is reporting that following the closure of the studio where we saw various Telltale games being removed from the storefronts, some of the games are now returning, specifically Telltale's Walking Dead series. This is thanks to Skybound Entertainment stepping in to pick up some of the slack that was left after Telltale was left to hang dry following a deal that fell through with Smilegate, the makers of multiplayer online games like TalesRunner and Crossfire, and AMC.
Robert Kirkman's Skybound Entertainment recruited some of the staff from Telltale in order to finish off the development for The Walking Dead: The Final Season, which was cut short abruptly due to the closure of the studio, which saw only a small skeletal crew left on board to handle basic operational duties.
Skybound issued a statement about the status of Episode 3 and Episode 4, which will pick up where Episode 2 for the Final Season left off, making it known that gamers who already purchased the season pass will not need to buy the season pass for a second time...
So this is definitely good news for people who purchased the season pass and probably felt like they had been given the short end of the stick when Telltale closed up shop just as the second episode was released.
Surprisingly, gamers weren't quite as vociferous about the season pass conundrum as one might have expected. Many people understood the plight of the developers and were moreso frustrated that the story wasn't going to be completed. That is, until Skybound stepped in and saved the day.
During the transition of Telltale's work being rescued by Skybound, some of the company's games were removed from digital distribution storefronts, which is typically what happens as rights and properties are transferred over from one company to the next. We saw it happen when Disney purchased Marvel, and various games, such as Marvel Ultimate Alliance and Deadpool, were pulled from the storefronts during the transitions of rights between publishers.
There's still no release date on when the third and fourth episodes will release for The Walking Dead: The Final Season, but the team is working on and wrapping up the third episode now, so Skybound will make an announcement once the team gets everything wrapped up nice and neat.
Staff Writer at CinemaBlend.
Your Daily Blend of Entertainment News
Thank you for signing up to CinemaBlend. You will receive a verification email shortly.
There was a problem. Please refresh the page and try again.