Nintendo Is Holding Open Tournaments For Super Smash Bros. Ultimate And Splatoon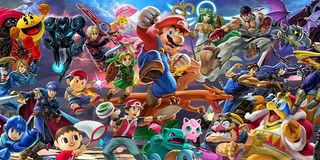 Nintendo is kicking off 2019 with major tournaments in both Super Smash Bros. Ultimate and Splatoon 2 and, whether you're a beginner or a pro, everyone is invited to get in on the action.
Starting late next week, Nintendo will invite the fighting community to flex its gaming muscles in the Super Smash Bros. Ultimate North American Open 2019. Shortly after that, the Splatoon 2 North American Inkling Open 2019 will take center stage, pitting teams of four against each other in some ink-slinging shootouts. And, as noted above, these competitions will initially be open to all comers with the top performers in each being invited to PAX East on March 30 for some final showdowns.
First up is the Smash tournament, which is open to participants in the United States, Canada, and Mexico. To get the ball rolling, you'll want to head on over to the official event listing and find the link to register on the Battlefy website. They've also got links available to help you figure out which region you are in, as well as a full rundown of the official rules. Everyone 13 and older is invited to compete in the U.S. and Canada, but you need to be 18 and up to compete in Mexico.
Once you get registered, your specific competition time and instructions will be provided through Battlefy. Once the top players from each region have been decided, those folks will be invited to join Nintendo in Boston for the final PAX battle.
What's cool about this event is that you can compete from your home if you want. No need to pack up your controller and drive several hours to join your opponents at a rental space in some mall. The qualifying events start Feb. 2 and continue through mid-march. Various regions have their own qualifying and finals events, so be sure to pay attention to the schedule so you don't miss your shot. You also need to be registered by the start date for your region so, if you're planning to take part, you might as well play it safe and register now.
The Splatoon 2 tournament requires a lot less schedule juggling. Once you have your team of four registered, you'll be set to compete in qualifying Turf War battles on Feb. 10. The top eight teams will then take part in a qualifier finals event on March 2. From there, the four top teams will be heading to PAX East to compete on-stage in front of a live audience and, of course, streaming viewers across the globe.
To register for the Splatoon 2 event, you've got until 9 a.m. PT on Feb. 10 but, again, you might as well get your team nailed down early and register in advance.
Good luck to everyone planning on throwing their hat into the ring and kudos to Nintendo for setting up events like this that can be enjoyed by literally anyone with a Switch.
Staff Writer for CinemaBlend.
Your Daily Blend of Entertainment News
Thank you for signing up to CinemaBlend. You will receive a verification email shortly.
There was a problem. Please refresh the page and try again.