Battlefield 3 Terminator Sounding Theme Song Available On Amazon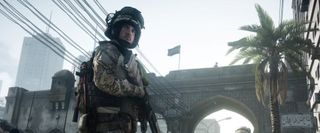 You know that thumping, Terminator 2 sounding theme song we've been hearing throughout the promotional videos for Battlefield 3? Yeah, that really wicked, hardcore theme? Well, that song has surfaced on Amazon and will be available for purchase day and date when the game hits retail shelves. Anyone who wanted to hear the full version of the song will soon be able to own the full song.
According to Oxcgn, they spotted the song and an audible teaser over at Amazon. The song is composed by Johan Skugge and Jukka Rintamäki. The song only clocks in at 1: 56, but from start to finish it just sounds really awesome. Fans of the original Battlefield 2 theme will find that the classic melody is not lost in the next-gen version of the popular song, but it's nestled right in there between the ear-orgasm imbuing thumps and blood pumping synths.
You can check out some previews of the song or prep to purchase the MP3 when it goes live with the launch of Battlefield 3, Tuesday October 25th over at Amazon (opens in new tab). You can check out a few more previews from the soundtrack over at Oxcgn.
Staff Writer at CinemaBlend.
Your Daily Blend of Entertainment News
Thank you for signing up to CinemaBlend. You will receive a verification email shortly.
There was a problem. Please refresh the page and try again.