Is Bungie's Destiny Coming To PC?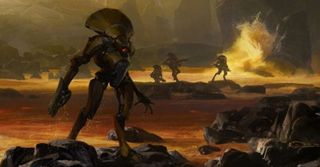 This week Bungie announced their first-person, online shooter Destiny. Console gamers are licking their lips but PC gamers are left wondering whether they'll ever get their hands on it.
The press event for the game gave PC gamers reason to be both hopeful or pessimistic. On one hand, here's what Bungie co-founder Jason Jones told Destructoid about the current state of the shooter market:
Destructoid and RPS both found the argument a bit strange. After all, a lot of people still play shooters with a mouse and keyboard. It also seemed like Jones was writing off PC shooter fans. That doesn't really bode well for that platform's chances at getting Destiny.
PC gamers shouldn't give up hope, though. Bungie COO Pete Parsons told Eurogamer that they haven't ruled it a release on that platform.
"We would absolutely love to be on the PC," Parsons said. "If you talk to the people upstairs, we play it on all platforms. So, stay tuned."
Still, that quote suggests that Bungie isn't actually developing for the PC yet. It would appear that they're focusing on getting Destiny on consoles this fall first. That's a daunting task in of itself, considering that Bungie is targeting both current and next-gen consoles.
The announcement of Destiny after months of speculation is an exciting time for console gamers and it's too bad that PC gamers can't share in that excitement. However, it seems like there's a chance they'll get the hands on the game...eventually.
Staff Writer at CinemaBlend.
Your Daily Blend of Entertainment News
Thank you for signing up to CinemaBlend. You will receive a verification email shortly.
There was a problem. Please refresh the page and try again.