Who The Real Winner Was At The 2018 Game Awards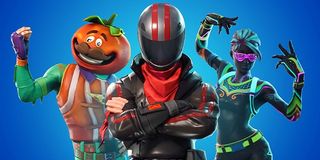 One of the biggest winners at the 2018 rendition of The Game Awards never gave an acceptance speech or received a trophy, and that was the Epic Games Store. The event basically served as a launch party for the new games platform and, coupled with the already insane success of Fortnite, Epic's push to become a force to be reckoned with on PC and Mac might just pay off.
If you tuned into The Game Awards, you saw a three-hour behemoth of a show positively crammed with awards being handed out, orchestral music and, more than anything else, game announcements. In fact, there were entire segments between commercials that included nothing but one game trailer after the next. When you combine that with the fact that many of this year's commercials were also more game trailers, The Game Awards started to feel more like an E3 showcase you might expect from Microsoft or Sony rather than an event where 30-plus awards were handed out.
The one thing that many of these big game announcements had in common was the fact that the new Epic Games Store was part of the conversation. Not only did we learn that a couple of new games are going to be exclusive to the store, but we also saw that "Epic" logo alongside the usual platform lineup for upcoming launches. This means that Epic has been working fast and furious behind the scenes to make it clear to developers that their storefront will be worth putting their games on, which should in turn result in more and more customers adding Epic's launcher to their download queue.
While there are certainly other games services available on Mac and PC, all of those other services combined pale in comparison to Valve's Steam. Up until now, it didn't seem like anyone would be able to topple the giant or even give Valve's storefront a run for its money. While Epic's offerings are minuscule as of this moment, the storefront is already showing great potential. And using The Game Awards to shout that fact loud and clear to millions of viewers around the world was a rather brilliant move on Epic's part. It looks like they've caught Valve completely off guard, yet another factor that could help catapult the Epic Games Store to the forefront.
Before going any further, it's worth pointing out what is easily one of the most powerful arrows in Epic's quiver, the revenue sharing structure on offer to developers who choose to publish games on their storefront. At present, Valve earns about a 30 percent take on game sales through the Steam storefront. Epic is delivering a huge advantage for developers right out of the gate, taking a flat 12 percent no matter how many copies of the game sells, how big the developer/publisher is, etc. Their cut is a little over a third of the competition, which is likely going to be a huge deciding factor moving forward in regards to where developers/publishers want to showcase their game.
To help start things with a bang, a couple of games were announced as Epic Games exclusives during The Game Awards. Supergiant Games' newest offering, Hades, has already been made available in early access on the storefront, with its Game Awards trailer causing quite the stir. You can also grab Ashen, from Annapurna, on the store, as well as the prequel to Hello Neighbor. A quick perusal of the storefront shows Unreal Tournament is also up for grabs in these early goings, with games like Darksiders III, Satisfactory, Rebel Galaxy: Outlaw and Outer Wilds also in the lineup. Several of those games were also featured in a sizzle reel that was, you guessed it, shown off during The Game Awards.
Another huge get for Epic is the formerly PlayStation exclusive, Journey, which will apparently not be available on PC/Mac on any other platforms. That list of games set to launch soon is rounded out by titles like Man Eater, Shadow Complex, Super Meat Boy Forever and more. It's a small but mighty list and a hell of a way to launch a new games platform.
On top of all of that, Epic has announced that they will be making a game available free of charge every two weeks through partnerships with various publishers, giving gamers an even bigger incentive to download the Epic Games launcher and make it a part of their entertainment lifestyle. First up is Subnautica on Dec. 14, with the original Super Meat Boy arriving on Dec. 28.
It was smart of Epic to leverage The Game Awards to put its new platform in the spotlight, but there are a couple other major factors that could make Epic Games a legitimate competitor against services like Steam and GOG.
For starters, there is zero cost to throw your hat in with Epic's new platform. When a new game console launches, consumers have to weigh a hell of a lot of factors including exclusivity and, of course, that initial investment. While you will need to spend several hundred dollars on the next Xbox or PlayStation and hope that they make your investment worthwhile, downloading the Epic Games launcher cost zero dollars, takes about two minutes and can be done from any PC or Mac. Even if you only download it for the free games every two weeks, you're still an official customer of the Epic storefront. Maybe you'll buy a game or two while you're there, especially something that's exclusive, and you can even take something of a moral high ground knowing that more of your money is going toward the team that actually made the game in the first place. On top of that, said teams know they'll have far less competition on a new platform, making Epic Games a more appealing option as it gets up and rolling.
Finally, it's time to address the elephant in the room: Fortnite. Epic's battle royale monster recently introduced a creative mode and new season that are only going to spur on its insane popularity and anyone who plays Fortnite on PC already has the Epic Games launcher installed. That means that, right from the beginning, Epic has tens of millions of customers already taking part in its games ecosystem. Valve made a similar move with Half-Life 2 on Steam and that single, hugely popular game is the primary reason the platform found traction.
Still, Epic knows that even with all of those factors working in its favor, you're only going to be successful if people know you actually exist. They've been aggressive getting Fortnite in front of as many people as possible this past year and, based on how big of a presence Epic Games Store had at The Game Awards, it looks like they'll be bringing that same tenacity to this new undertaking as well.
Your Daily Blend of Entertainment News
Staff Writer for CinemaBlend.