Undertale Creator Releases Brand New Game For Free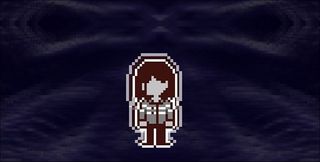 (Image credit: Toby Fox)
Yesterday, Undertale developer Toby Fox, or more specifically, the Twitter account he surely manages for the game, promised that something was going to happen today. Well, that something has now happened, and it's a brand new game, and it's entirely free.
If you head on over to the new Deltarune.com website, it welcomes users to the page in both English and Japanese. It warns you that there may be flashing or moving imagery but after taking heed of the warning it says that it's all in your hands. The page also says there may be security protocols that have to be overrided to use the program. It finishes up by saying that gamers should refrain from discussing Delta Rune for 24 hours. At that point there are links to the English and Japanese download links for Windows and MacOS.
While the following might not be considered spoilers for the new game, based on the previous weirdness that was Undertale, who knows, so consider this a spoiler warning.
The program clocks in at 77MB, so it's a rather tiny download. Once you install the program you'll boot it up and it'll go through some basic dialogue before bringing you to the character creation menu, where you can choose the character's head, torso and legs.
You'll then need to choose your favorite food, color, blood type, and what sort of gift you'll give. After going through the whole creation process the entire thing will be discarded and you'll end up playing Kris in what looks like a standard Undertale game.
The shock release of the project managed to take social media by storm, causing Toby Fox and Undertale to trend. If you like the 8-bit style designs and the simplistic visuals and gameplay then it might be up your alley. It's obviously aimed at a younger audience, and it reminds me a lot of Scott Cawthon and the Five Nights at Freddy's games.
In fact, Cawthon used to do similar antics with releasing the games, sometimes making cryptic posts or misdirections on Steam only to release the game the next day. A lot of it was done just to mess with entertainment culture and the expectations of linear announcements. Most games, movies, books, or music all usually have release dates rolled out well ahead of time, and in between the announcement and the release there are screenshots, trailers, media packets and interviews all hyping the release of the product.
For indie developers, they don't have to abide by the rules of standard media practices, and we're seeing that with projects like the Delta Rune project that Toby Fox rolled out, which appears to be another entry in the Undertale series. What's more is that it's completely free. You don't have to pay a dime to get in on the action... right now.
I suppose that kind of kills the rumors about a character from Undertale making an appearance in the upcoming Super Smash Bros. Ultimate. But I'm sure fans of Toby Fox's original game are probably happier about getting a brand new game as opposed to a single character appearing in another game.
If you want you some more Undertale, you can grab a free copy of Delta Rune right now from the official website.
Your Daily Blend of Entertainment News
Staff Writer at CinemaBlend.