The First Three Phoenix Wright Games Are Coming To Modern Consoles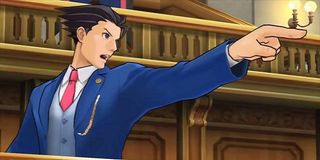 Here's some news you won't likely object to: The first three Phoenix Wright games are about to be bundled and made available across every major platform. So grab your snazziest suit, bone up on your interrogation techniques and get ready to become the most dynamic force to ever enter a pretend courtroom.
If you've ever wanted to live out a courtroom drama, you're likely at least familiar with the Phoenix Wright games. But, if you've never had the opportunity to actually play the series -- or maybe you just want a good excuse to dive back in -- then you'll want to check out Phoenix Wright: Ace Attorney Trilogy. Capcom has revealed that the first three games in the series are being rolled into a single package and will launch on modern platforms, including the PlayStation 4, Xbox One, Nintendo Switch and PC. The launch window is set for early 2019, which is probably a decent idea considering how crowded this year's holiday season is looking for game launches.
The first Phoenix Wright game launched way back in 2005 for the Nintendo DS, with Justice for All arriving in 2002 and Trials and Tribulations hitting the same platform in 2004. From there, the series has had a couple other entries including spin-off games, and even an appearance by Wright in a Marvel vs. Capcom outing. The dude even has his own popular manga series.
While the trilogy has been made available on mobile platforms and the 3DS, it's nice to see Capcom bringing Ace Attorney's unique brand of gameplay to a modern audience on more platforms than ever.
While the visuals will have a nice upgrade, everything else about the games is just as fans remember. You'll examine evidence, question witnesses and work to build a case proving your own client's innocence. It's kind of like a puzzle game mixed with a visual novel, a formula that has served the series well for more than a decade.
This is just the latest in a recent push by Capcom to get more of their classic titles in front of modern gamers. The Beat 'em Up Bundle launched recently, combining seven arcade hits with modern features including online multiplayer. And then there's the HD remaster of Okami, which translated brilliantly to the Nintendo Switch this past summer. And the highly-anticipated remake of Resident Evil 2 is also due out early next year.
But, that's not to say Capcom isn't focusing on new experiences, too. While they recently shut down a studio in order to consolidate efforts, the publisher is actually riding high at the moment, thanks in part to the runaway success of Monster Hunter World earlier this year. They've also got Mega Man 11 due out soon, with Devil May Cry 5 (complete with microstransactions!) set to launch next year.
Your Daily Blend of Entertainment News
Staff Writer for CinemaBlend.