DS Trailer: Bleach - The Blade Of Fate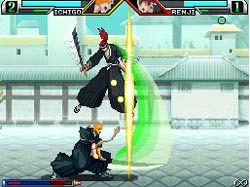 Sega has released the latest trailer for the DS version of Bleach: The Blade of Fate a card carrying fighting game based on the Shonen Jump Bleach manga whose anime version airs during the Adult Swim block of programming on Cartoon Network. The latest video shows off the multiplayer action DS owners will get to enjoy when the game releases this fall. Die-hard import fans may remember playing the Japanese version of the game last year, and your efforts appear to have been noticed by Sega. Blade of Fate and the Wii version Shattered Blade are the first Bleach games to make it to North America later this fall.
Yes, I mentioned cards above. And yes, this is a fighting game. Essentially you chase your opponent from the foreground to the background in 2D arenas, and once you have them you can use one of over 50 Power-up Cards to gain victory. While mildly popular, at least when done well, in the western world, card based games don't normally go over well. But the Japanese versions of the game have been pretty popular for those in the import business.
The best way to make an informed decision is to take a look at the game in action. And hey, we just happen to have the above-mentioned trailer for you right here:
Your Daily Blend of Entertainment News
Staff Writer at CinemaBlend.