Data East Arcade Classics Coming To Nintendo Wii This January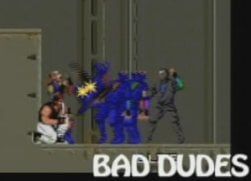 Remember the good 'ole days when you were huddled up over the four-player arcade machine with your friends, blasting down baddies in Sunset Riders or kicking but in Bad Dudes vs Dragon Ninja? Well, the old-school arcade days are returning, only this time the nostalgia will be available on the Nintendo Wii, thanks to Majesco and Data East.
15 arcade classics from the Data East vault are making a return to the modern day console and will feature some of the best 2D side-scrolling, rotating, beat-e'm-up action from the heyday of gaming.
A new trailer was also released to commemorate the announcement, but one thing that's worth noting is that the games have now been rated 'T' for Teen. Back in the olden days these games used to be rated Kids through Adults, but I guess someone finally took an actual look at the content and noticed that there were some less-than-kid friendly content in some of those titles.
For more info be sure to visit the Official Data East Website. The classic collection will be available for the Nintendo Wii this upcoming January in 2010.
Your Daily Blend of Entertainment News
Staff Writer at CinemaBlend.