Dragon Quest IX Is Best-Selling Game In Series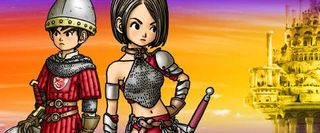 The multiplayer-centric DS RPG Dragon Quest IX has been a real cash cow for Square Enix. They announced today that it's the best-selling DQ ever.
DQIX has sold 5.3 million copies worldwide since last December (via Andriasang). It's the first game in the series to top the 5 million mark. DQ games have now sold a combined 57 million copies.
It's been awhile since we've heard anything about Dragon Quest X. Last we heard, it was being developed for the Wii. Given the high sales potential of the DS, though, you'd expect them to hit that platform again with something DQ-flavored as soon as they can.
Staff Writer at CinemaBlend.
Your Daily Blend of Entertainment News
Thank you for signing up to CinemaBlend. You will receive a verification email shortly.
There was a problem. Please refresh the page and try again.