E3 2007: Rayman Raving Rabbids 2 Wii Fact Sheet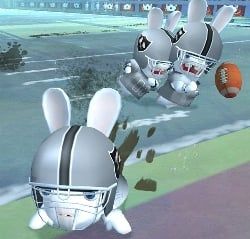 Last year Ubisoft rushed out a mini-game filled Rayman game, in which Wii owners had one of the first third-party mini-game compilations, setup for the Wii-mote. Well, as Ubisoft stated earlier this year, they've learned from their mistakes. They want to do better. Rayman Raving Rabbids 2 is aimed to be better.
I'm no fan-favorite of mini-game compilations. They tend to be fun for about two hours in a day and possibly fun for the entire first week. After that, just about any hardcore gamer will attest to their easy-to-imbue boredom and lack-lusting appeal. Ubisoft, however, is aiming desperately to redeem the quality of the Wii games and this title just might rise above the low-standards we've come to expect from Nintendo's new console. Rayman Raving Rabbids 2 is set for release on November 15th.
You can check out the fact sheet below or head back to our made-for-newbies E3 Coverage Center.
Rayman Raving Rabbids 2 Fact Sheet:
• New wacky games: 60 brand-new games that spoof popular culture and are even wackier and crazier than those featured in the first Rayman Raving Rabbids.
• All-new party mode: Play co-op or battle your friends simultaneously with up to four players! Unique use of the Wii Remote: Discover new and innovative ways to play with eight types of gameplay, including shaking, precision, dexterity, and balance.
• Rock Out with the Rabbids: Use the Wii Remote as your guitar, drums, or mic as you create and listen to music from the most popular bands around.
• Travel around the world: Take Rayman on a world tour to defend Earth and travel to different regions including the USA, Europe, and Asia. Challenge the Rabbids as they try and infiltrate everyday life.
• Customize Rayman and the Rabbids: Use more than 110 items including skins, hats, accessories, and clothes to dress Rayman, and to create your own Rabbid. Unleash your creativity with over 540K customization combinations.
Staff Writer at CinemaBlend.
Your Daily Blend of Entertainment News
Thank you for signing up to CinemaBlend. You will receive a verification email shortly.
There was a problem. Please refresh the page and try again.