EA Apologizes For Mean-Spirited Wii U Comments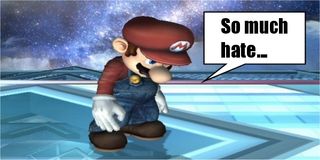 The Wii U was on the receiving end of a rather scathing bit of prankery at the digital fingertips of the Frostbite Twitter account, which put into the public domain some unsavory statements that had Nintendo fanboys and Wii U aficionados up in arms like Ukrainians dealing with Putin usurping Crimea.
Earlier today we reported on the tweets that were sent out that stated that EA would be publishing future Frostbite games on the Wii U because it was very "powerful". They also made mention about Half Life 3 coming exclusively to the Big N's newest console. However, most insulting, was that they promised improved netcode, writing...
That's far worse than walking into a synagogue full of Rabbi and yelling out "My kid's name is Adolf!" while sporting a mohawk and wearing colors from the AB gang.
I mean, what makes it so bad is that they actually joke about fixing the piss-poor netcode plaguing Battlefield 4, VG 24/7, even though it released way back in November of 2013.
However, the news spread wide and far enough that it struck something we thought didn't exist within the infrastructure of Electronic Arts: a soul.
IGN spotted an apologetic tweet from Electronic Arts' chief operating officer, Peter Moore, who let the public grasp hold of the following, contritely concise message...
Oh well, someone just went full "daddy mode" on that Frostbite Twitter account. I bet he followed it up by storming through the offices, grounding people left and right and called out whoever was in charge of those series of tweets so he could unleash some belt-fury on them... Bing Crosby style.
I would have preferred actual support of Frostbite 3 on the Wii U instead of a Twitter apology. How about that, huh? I mean, if the Frostbite 3 can run on the geriatric twins it could easily run on the Wii U.
There is one funny thing about all of this, though: There's no real proof that the messages existed other than what gaming sites have printed. The closest is a screen capture from Neogaf, which anyone could brush off as a "Photoshop job".
Technically, EA could have ignored the jabs and went about business as usual. Other than a handful of sites that threw their own opinions at it, most of this whole thing was lost in a shuffle of far more important news... like Optimus Prime appearing in Titanfall. I'd buy that for a dollar.
Anyway, Moore giving credence to the deleted Tweets and acknowledging something that would have faded away in a few hours time is a little odd, but maybe the company wanted to stay relevant in the news following the drop out of the Worst Company in America awards?
Even more than that, it seems weird trying to recover this corporate jab when EA hasn't made any games for the console recently, and it's not like they're releasing any new games for the Wii U anyway. I mean, wouldn't you actually need a relationship with a company to apologize for any damage done?
I guess Moore was just playing it safe since the number one rule of the internet is: once it's out there it can't be taken back.
Staff Writer at CinemaBlend.
Your Daily Blend of Entertainment News
Thank you for signing up to CinemaBlend. You will receive a verification email shortly.
There was a problem. Please refresh the page and try again.