EA Sports UFC Introduces Female Fighters: Tate And Rousey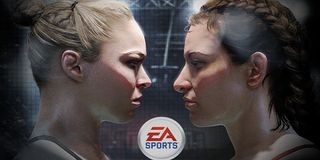 Electronic Arts Inc. this week announced that its upcoming EA Sports UFC roster would be getting a couple of unexpected additions in the form of female fighters Ronda Rousey and Miesha Tate, known for their prowess in the octagon and their upcoming stint as coaches on the television show, The Ultimate Fighter.
Perhaps the most intriguing part of EA's statement is that Rousey and Tate are the "first female fighter revealed," which we can take to mean even more lady brawlers will be added by the time the game finally ships. This, obviously, is a big moment for the series. Women fighters are becoming a bigger part of the UFC ecosystem, so it makes sense that EA would want to make sure they are well represented in the game.
While other fighting games have featured female athletes in recent years, this is the first time a woman has been on the roster for a UFC game, previously the first ever MMA based fighting game to feature female fighters was Supremacy MMA, but there haven't been any other games to follow suit until now. Miesha Tate is the top bantamweight contender and Ronda Rousey is the same division's champion. The two are known for having a very heated rivalry, which will officially come to blows for a second time at the conclusion of the next season of The Ultimate Fighter, as the season's coaches traditionally duke it out during the next pay-per-view event.
To give you an idea of just how fierce Tate and Rousey's rivalry runs, here's a recent interview Rousey did with the UFC.
"You have a right to be there," Rousey said to all women interested getting into the sport of mixed martial arts. "No one should ever make you feel unwelcome."
Due out next spring, EA Sports UFC promises to bring the women's division into the limelight with an "esteemed roster of female fighters."
"This is a great moment for video games and for mixed martial arts," said Dean Richards, GM of EA Sports UFC. "In our commitment to delivering the most realistic fighting game experience ever achieved, we wanted to represent the full spectrum of talent and diversity of all the fighters in the sport, including women who have become an undeniable force to be reckoned with."
UFC President Dana White agreed.
"The fights are always exciting, Ronda Rousey is as talented as any champion in the UFC and her rivalry with Meisha Tate is one of the most intense in UFC history," he added. "The female division is one of the most intense in UFC history. The female division has become a huge part of the UFC and fans will now be able to experience fighting with them in the game."
Staff Writer for CinemaBlend.