Fortune Winds: Ancient Trader Doing Business On PC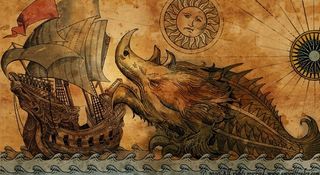 Another nautical turn-based strategy adventure has hit digital store shelves and, this time, I'm going to do my best not to break this news to you dear readers without breaking into pirate-speak. Instead, I will simply say that Fortune Winds: Ancient Trader is now available for download through Origin or Gamersgate for $9.99...Yar.
Followup to 2010's well received Ancient Trader, Fortune Winds has players once again exploring uncharted waters in a world themed after the atlas paintings of historical cartographer Abraham Ortelius, battling sea monsters, trading goods and trying to prove whether or not the earth is flat.
As is the case with the majority of these types of games, you'll get a ship to equip, a crew to command and a massive world of mysterious islands and bustling ports to sail between as you vie for superiority across the seven seas. Players can take on daring quests, play in a hotseat player-vs-player mode with up to three friends, and wage war against the devils of the deep, including giant crabs, leviathans and the legendary Kraken.
You can pick up Fortune Winds: Ancient Trader for 10 bucks by either visiting Origin or Gamersgate. For additional details, screenshots and all that jazz, head on over to the Fortune Winds official website.
Staff Writer for CinemaBlend.
Your Daily Blend of Entertainment News
Thank you for signing up to CinemaBlend. You will receive a verification email shortly.
There was a problem. Please refresh the page and try again.